Decorating pumpkins is a classic Halloween activity the whole family can enjoy. If you're looking for creative ways to decorate a pumpkin or if you want to make the most of your jack-o'-lantern, Spirit Halloween is here to help.
Here are 10 ideas for how to decorate your pumpkin, so you'll have the best jack-o'-lantern on the block!
1) Carve a pumpkin
This is the most classic way to decorate your pumpkin. Jack-o'-lanterns are a timeless Halloween tradition. Whether you're using a stencil or not, the options are endless! Carve words, a face, or a Halloween image like a witch's hat.  If you've got the skills, you can get even more elaborate and use more advanced patterns. You can grab some pumpkin carving stencils to give you ideas, and check out our blog post to learn exactly how to carve a pumpkin.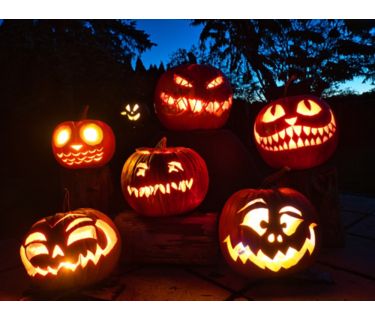 2) Use mixed media on a pumpkin
Turn your pumpkin into a member of the family by adding your mom's glasses, a tin-foil hat, and a pipe-cleaner moustache. Using items found around the house is a fun and easy way to decorate your pumpkin and you never know what might come in handy.
3) Candy a pumpkin
Glue on candy-corn fangs, gumball eyes, and a button candy nose to make your pumpkin a sugary masterpiece! Mix two Halloween hallmarks, candy and pumpkins, and you have a sweetand delicious looking decoration. It could also make for the perfect dinner centerpiece!
4) Paint a pumpkin
Painting offers an artistic take on the Halloween pumpkin. Painting a pumpkin is less messy than carving and allows you to use bright colors or glow-in-the-dark paint to make your painted pumpkin stand out at night!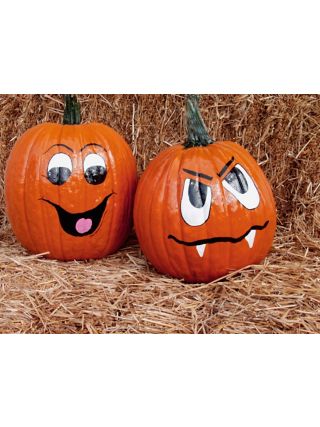 5) Temporary tattoo a pumpkin
What's more radical than a tattooed pumpkin? Simply apply a temporary tattoo to your pumpkin and boom, you've got one tough-looking gourd.
6) Lace a pumpkin
Make your pumpkin a fashionista this Halloween with some lace! Cut out a lace belt, and use hot glue to attach it. Your pumpkin will instantly have a steampumk-inspired look.
7) Mummify a pumpkin
Wrap some toilet paper around your pumpkin, add some cute eyeballs, and voila! You'll have the most adorable undead pumpkin on the block! Kids will get a kick out of wrapping the toilet paper around and around.
8) Masquerade ya pumpkin
Give your pumpkin its own costume this Halloween! Simply slide a masquerade mask on your pumpkin, and you've got a beautiful pumpkin decoration! You can use any Halloween mask to give your pumpkin the perfect incognito look.
9) Glitter a pumpkin
What's better than glitter!? Turn your pumpkin into a glitter bomb, but make sure to apply the glitter outdoors to avoid a glittery mess!
10) Wax a pumpkin
Create a colorful work of art when you decorate your pumpkin is by dripping hot wax on it. This can create a beautiful creation you'll love putting on display. Wait until the wax has cooled before letting the little ones touch it. Did you know you can use a hot glue gun to melt colorful crayons?
No matter how you decide to decorate your pumpkin, originality is key! Check out all of our pumpkin carving supplies to help you make your masterpiece stand out even more.