Good news, Beetlejuice fans: This popular Halloween ghost is back and better than ever this year! And he brought his handbook for the recently deceased—literally. Spirit Halloween has all the Beetlejuice costumes and Beetlejuice Halloween decorations you want most.
For those who haven't seen this classic movie yet, now's the perfect time to watch as you prepare for Halloween 2020. What is Beetlejuice about? Beetlejuice is a 1988 horror-comedy film directed by Tim Burton about a newly-deceased ghost couple who hire the devious "bio-exorcist" Beetlejuice to haunt the mortal family who has taken over their beloved house. Now, they have to get rid of Beetlejuice too! Say it, say it twice, but don't you dare say it three times or you'll summon him!
Spirit Halloween is ready to help you have a ghost-tastic holiday this year with our exciting new Beetlejuice décor. Celebrate Beetlejuice this Halloween with essentials for every room of your house. We've got it all, including Sandworm accessories.
Be the ghost (host) with the most, with our Beetlejuice Dishtowels to remind everyone to never trust the living. Let's turn on the juice and see what shakes loose with the Sandworm Candle Holder. It's showtime! With a Light-Up LED Beetlejuice Statue to light up any room, you'll be showing everyone just what kind of haunted house they're entering.
Drink up, bub, with some Beetlejuice glassware. Who could forget this classic line? I'll eat anything you want me to eat, I'll swallow anything you want me to swallow, so come on down and I'll chew on a dog! Drink like the Bio-Exorcist himself with our Beetlejuice coffee mug or go full goth with a Lydia mug. You can keep the undead cold, and your warm drink hot with our Beetlejuice tumbler!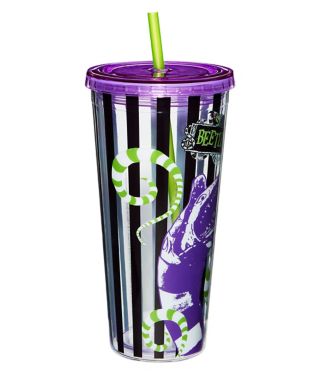 Want to dress up in a Beetlejuice costume this Halloween? You can look just like this popular character in his familiar striped suit. There'll be no mistaking what kind of havoc you plan to wreak!
Spirit Halloween has a variety of official Beetlejuice costumes for everyone in the family. You can dress up on your own or make it the perfect movie lover's couples costume! If your kids are just discovering the joy that this classic film offers, they'll love putting on one of our Beetlejuice kids costumes and reciting their favorite lines. We even have toddler Beetlejuice costumes for tiny tots who want to get in on the fun.
But remember, in this house if you've seen one ghost, you haven't seen them all! Spirit Halloween even has Beetlejuice wedding costumes. Try the red adult Beetlejuice wedding suit, with its suit, bowtie, and vest, so you can look motion picture perfect. For those who can't get enough of Lydia, this Lydia Deetz costume has her red wedding dress, which comes with a veil so your costume will be authentic down to the last detail. Tie the knot, Beetlejuice Halloween style.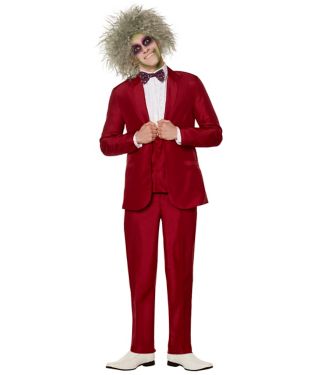 There's nothing more exciting than recreating one of your favorite movies. Get in a festive spirit when you put on your Beetlejuice Halloween costume! It's sure to be a hit.
Let the dead come alive! Beetlejuice is an iconic cult film that will live on…especially during Halloween. If you love Beetlejuice and want to decorate your house for Halloween, you're in the right spot.
You don't have to wait until October to hang up your Beetlejuice Halloween decorations! Get a head start right here at Spirit Halloween in our Beetlejuice section.