Just when you thought your little bundle of joy couldn't get any cuter… Halloween comes and it's time to dress them up in the cutest baby Halloween costumes. We're here to give you some of the best baby's first Halloween costume ideas that will keep your little ones looking cute and feeling comfortable all day long. Your baby's first Halloween should be a memorable experience; after all, you only get one! Below is a list of some of our favorite baby's first Halloween costume ideas that will make for timeless pictures and adorable memories.
Classics never go out of style! Our classic baby Halloween costumes are to die for, and your little one will look absolutely adorable in one of our classic picks. You'll be able to choose from an array of different classic themes including pirates, witches, nerds, firefighters, chefs and so much more! Transform your pride and joy into anything you want, because after all, their first Halloween should be magical!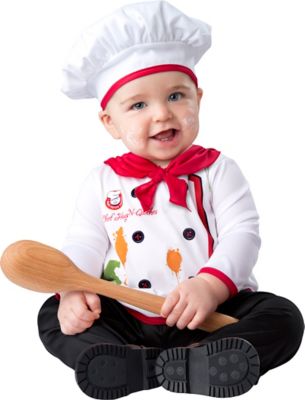 It's a bird! It's a plane! It's super baby! We know you'd put your life on the line for your little one, but you can't deny how adorably sweet they'll look dressed up as a superhero on Halloween night. Whether you want to your little guy to swing through town on his web as Spider-Man, or you imagine your little princess taking on the world as Wonder Woman, we've got a wide variety of superhero costumes that will meet your every need. If you've got multiple babies, a superhero-themed Halloween is the perfect way to create a coordinated crew.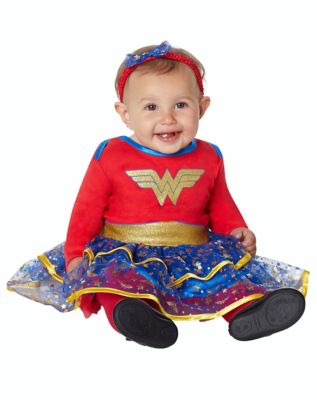 You can never go wrong with animal and insect costumes on Halloween! Besides the fact that your baby will be cuter than ever, there are so many perks to dressing your baby up as an animal or an insect. A handful of baby animal Halloween costumes feature faux fur that'll be sure to keep your little one feeling warm and comfortable all night long. There are so many animal costumes to choose from including dogs, elephants, cows, unicorns, lions and so much more. You can create a safari-themed night or turn your Halloween into a zoo in no time at all!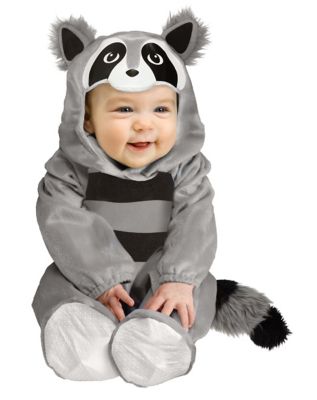 Your little one is a superstar and they'll be the celebrity of Halloween when you dress them up in one of our TV and movie baby Halloween costumes. They'll look like they just stepped foot off of the big screen! Dressing your little one up like one of their favorite TV or movie characters is the perfect way to get their imaginations running wild. This is also a great way to create a family-themed look. Create The Incredibles family or cast some spells as the three best friends in Harry Potter!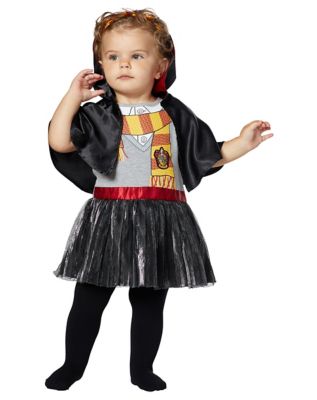 Okay, so we have to admit: There is no possible way your little one could be scary! Here at Spirit Halloween, we do offer some baby Halloween costumes that could be considered "spooky," but your baby will just look scary-cute! From witches and pumpkins to skeletons and ghosts, our scary baby Halloween costumes are so adorable… it's scary!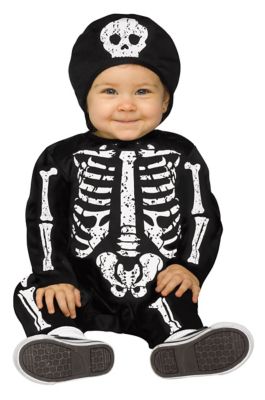 For your newborn babes that want to keep warm on Halloween night, we have the cutest and most comfortable bunting costumes ideas around! From an adorable pumpkin, to a delicious hot dog, your little one will undoubtedly be the cutest baby on the block! These one piece costumes usually contain arm holes with no feet, so your little one will remain comfortable and warm throughout all of the Halloween festivities.
Now that you've got the 411 on some of our favorite baby's first Halloween costume ideas, what will you dress your little one up as this Halloween? Send us pictures of your baby's first Halloween costume to spiritblog@spirithalloween.com and you may be featured in a future blog post!