A Halloween party is the perfect time to scare up some delicious treats and serve extra fun foods to get everyone in the festive spirit. A major part of hosting a Halloween party is making sure your snacks look appropriate. Think orange, black, and gory! The good news is that it's easy to turn your favorite party snacks into seasonally appropriate spooky delights with a little bit of creativity. You can help your friends get in the holiday mood as soon you start putting up your Halloween decorations, so you can properly show them off, or wait until closer to October 31 to throw your Halloween bash.
Keep reading to find out the best food and drink to serve your Halloween party!
Halloween Drinks
There are many options for fun Halloween drinks for all your guests!
Mix up some delicious mocktails ranging from Frankenstein's Monster Milkshake to Chilled Caramel Apple Cider. All are fun and delicious and are sure to make any party more festive. Serve them in Halloween drinkware for the perfect party mood.
Halloween Food
Give finger food a whole new meaning with these delicious delights. Want to keep things simple? Put out cubes of meat and cheese speared with Halloween-themed toothpicks with little ghosts or pumpkins on top. Want to get more elaborate? Here are a few fun Halloween treat ideas:
Carrot Fingers
Carrots are an easy party snack to serve in a playful way. Put out a bowl of your favorite dip with carrot "fingers" sticking up from the bowl. Use some soft cheese to attach pepper "fingertips" to the carrots or "paint" the nails with cream cheese for a healthy treat.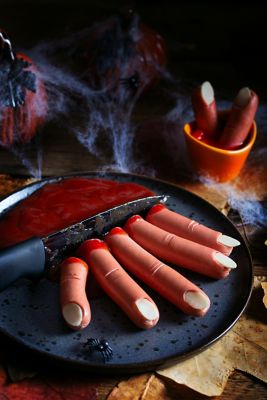 Bloody Sausage Fingers
For another twist on spooky digits, serve up Bloody Sausage Fingers. Cook up your favorite sausage (or hot dog), "paint" the nails with a small bit of processed cheese like American, or a spreadable cheese, cut them in half, and spatter ketchup in the middle for "blood." These may or may not be literal finger food, so have plates and forks handy.
Spider Deviled Eggs
Aside from being delicious and already having the word "devil" in them, deviled eggs are easy to spookify. Make your standard deviled eggs, then take an olive and place half of it face down for the "face." Follow that off by slicing an olive and placing mini black "legs" around your olive to form the spider.
Stuffed Mushroom Eyeballs
Carve out the inside of as many mushrooms as you'd like to serve. Then, fill the mushrooms with your choice of fillings, such as cream cheese, or tofu for a vegan option, using ketchup, hot sauce, or sun-dried tomatoes and sliced black olives to create the "eyeballs." Alternately, you can use pimento stuffed olives sliced flat for the eyeball.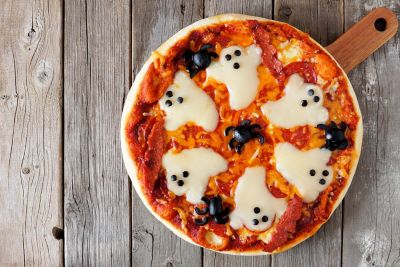 Ghost Pizza
Make a pizza using your own or store-bought dough, add sauce, then use presliced thin mozzarella slices and cut them into ghost shapes. Lay them on top of the sauce and add little olive bits for the eyes. Bake just long enough to cook the dough and so the cheese melts but retains its ghostly form. These can also be made on mini bagels for bite-sized treats.
Meatball Mummies
For a totally fun treat that kids and adults will love, turn meatballs into mummies with the help of some strategic dough baking. Whip up your favorite meatball recipe. Then you can use either premade bread dough or your own dough to wrap it around the meatballs in a mummy style. Add edible googly eyes or dots of ketchup or mustard for the eyes.
Monster Burgers
Burgers are already delicious, and turning them into monster burgers is fun and easy. You can use your favorite hamburger or veggie burger, and with some strategic toppings, they're ready for Halloween! Make "teeth" out of cheese slices cut into triangles and "tongues" out of pickle slices that dangle past the side of the bun. Pour some ketchup for a "blood" effect if you want to get a little gory. Spear pimento olives onto toothpicks on top for antennae. Get creative and see what you can use from your fridge that would add even more fun elements.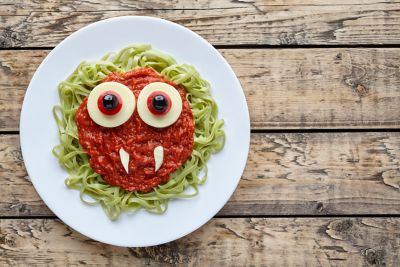 Spooky Spaghetti
This one will also require plates or bowls, but if you want to dish up more of a hearty dish, dye some spaghetti with food coloring for a fun color like purple or green. Add sauce on top and make "eyeballs" out of slices of cheese, tomato, and olives along with a cheese nose.
Halloween Desserts
For dessert, you have lots of options for Halloween-worthy sweets. Purchase some candy eyeballs you can easily stick onto any of your usual specialties, or if you prefer to make your own, you can follow a recipe.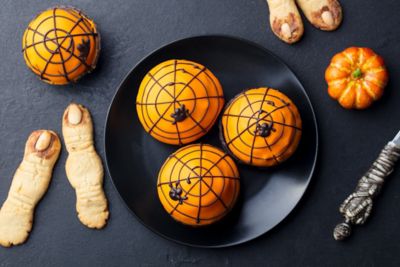 Spider Web Cupcakes
Decorating your cupcakes like spider webs is easy. Just use your favorite cupcake recipe and white or orange frosting, then melt chocolate and put it in a piping bag. Cut off the tip of the piping bag and draw a spider web (and spiders if you're artistically inclined) for a fun twist on this favorite treat.
Halloween Skewers
Skewers are a versatile way to serve up whatever candy and treats you have on hand. Add marshmallows you've painted with chocolate eyes and noses, fruit, and candy like gummy worms. You have room here to be creative as long as the treats can fit easily on the skewers and won't fall apart.
Halloween Gingerbread House
Build a gingerbread house with a Halloween theme. This is a great activity for families to do with kids. It's best to build it a few days in advance so it can be set up and still fresh enough to eat.
Chocolate Brownie Ghosts
Whip up your favorite brownie recipe, then add marshmallows with little chocolate or Tootsie Roll eyes and noses for the perfect spooky toppers. To get them to stay on the brownies, you can melt them over the stove to get the bottom of the marshmallows soft enough.
Want more Halloween party ideas? Check out our post on how to host a Halloween barbecue.