What's your earliest memory of Halloween?
Mine takes place around 1996. My dad is carefully creaking down the pull-down stairs of our attic with a cardboard box full of old Halloween costumes. I can vividly remember the smell of dust, candy corn, and sweet wonderment hanging thick in the air.
I rummage through the box of Halloween treasures and pull out a rubbery monster mask the size of my torso. My eyes light up with excitement when I see its gaping mouth and distorted, drooping eyes. I immediately put it on and take off running in search of my older brother. I cannot. Wait. To scare him.
The tradition of wearing Halloween costumes has Celtic and European roots dating back hundreds of years. On Halloween, it was believed that spirits came back to Earth.
When leaving their homes after nightfall, people would wear masks in an effort to evade these spooky specters. By disguising their faces, people hoped to trick the ghosts into thinking that they, too, were spirits. Clever, right?
Like any tradition, the concept of Halloween masks evolved over time. Simple face coverings paved the path for fake fangs, elaborate makeup, and even facial prosthetics. Today, we have the option to celebrate Halloween in a full-body inflatable chicken costume if we want to …
We wear these light-up, noisemaking, interactive costumes for one reason: to keep the magic of Halloween alive and strong!
For many of us, the spirit of Halloween is fueled by nostalgia. Memories of crisp autumn nights, hot apple cider, and the thrill of sorting through a bucket full of Halloween candy are what make the holiday so intoxicating.
So, why not crank up the nostalgia this fall with a vintage Halloween mask?
Here are a few of our favorites: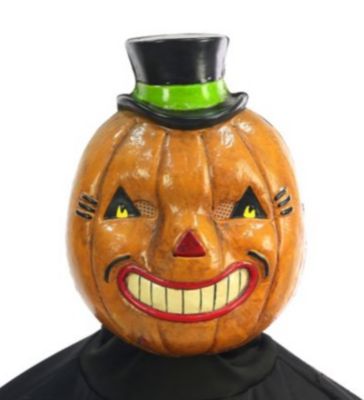 There's something delightfully sinister about this toothy grin!
Remember the sound of dried leaves crunching beneath your feet as you approached your neighbor's doorbell on Halloween night?
Jack-o'-lanterns lit up every porch with their plump faces twisted into menacing smiles and sharp scowls.
Slip into this Vintage Pumpkin Half Mask to bring these ghoulish gourds to life! Its yellow teeth and patchy, orange face create the effect that this mask has been aged to perfection.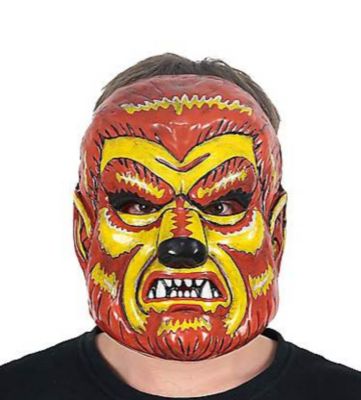 Remember the thrill of being awake past your bedtime on Halloween? You were anonymous in your costume, surrounded by your friends, and armed with enough candy to last into the next year. You were grateful to the moon for illuminating your path, but beware: The full moon!
Werewolves are said to come to life involuntarily at the sight of a full moon, and what if real ones were walking among the costumed ghosts and vampires on Halloween night? No matter how old we get, the fear persists: "what if?"
This glowering Vintage Werewolf Half Mask has bold, retro-inspired features that look like something directly out of an old comic book. It's terrifying, and it's downright exhilarating!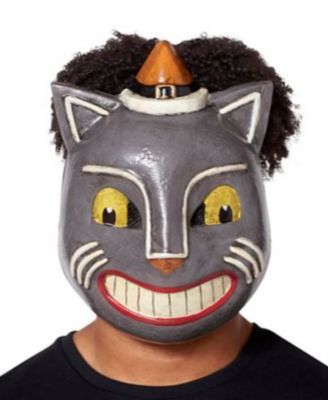 Here, kitty, kitty!
Folklore dictates that, similar to ravens and crows, black cats are omens of bad luck, illness, and even death. The fearsome feline has become synonymous with Halloween, making it the holiday's unofficial mascot.
This Vintage Cat Half Mask features an unnaturally wide smile, a whimsical hat, and aged, yellow eyes that seem to track your gaze everywhere you go.
That's not all! We also carry lots of other fun vintage Halloween masks that are sure to bring the scares and make you the most feared.
Everyone who crosses your path on Halloween night will be left to wonder about the chilling encounter long after you're gone. It's just a harmless superstition, right?
Spirit Halloween offers these vintage masks and so much more, and we guarantee that they'll remind you of the most hair-raising, awe-inspiring Halloween memories of your life.
Pick a mask (or five), gather everything you need to complete your Halloween look, and let your costume creativity shine!
When you're done, put them in a box in your attic. They'll be waiting to be rediscovered year after year, re-igniting the flame that first made you fall in love with Halloween.