America has many amazing cities and some extremely haunted ones, but not every city can boast about its epic Halloween celebration. Leaving aside Halloween events held at theme parks, we're going to look at cities known for their unique and long-running Halloween celebrations. Some of these cities' celebrations are highly attended and all of these have grown organically over the years. Though some parades were canceled in 2020 and 2021, many of these are finally resuming in 2022. These are the 11 most exciting Halloween celebrations in America: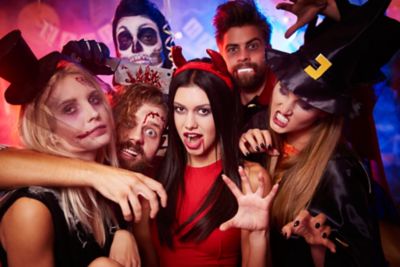 New Orleans, LA
The Krewe of Boo is a Mardi Gras-style parade that runs along the French Quarter on the weekend before Halloween. The floats are designed by the same studio that makes all of the most elaborate Mardi Gras floats (Blaine Kern), so they are huge and have a humorous thematic touch. This giant street party gets wilder every year and tends to turn Halloween into something of a two-week celebration in the city.
Then, the locals come out to Frenchman Street en masse on Halloween night. A giant party envelops a few blocks and extends southwest into the French Quarter and east into various parties and events in the Bywater as you move along the Mississippi River. A city that makes costumes all year in preparation for Mardi Gras also takes its Halloween costumes pretty seriously. A walk around Frenchman street on Halloween in the midst of costumed ghosts and ghouls is a surreal sight in one of America's most haunted cities.
New York City, NY
The annual Village Halloween Parade is legendary. You may have already seen articles about it or seen pictures on social media, but if you haven't, do yourself a favor and check out some pictures, if only to see how elaborate some of the costumes are.
This event began in 1974 and brings lower Manhattan to a stop every year as it goes along 6th avenue. People join the parade as the night goes on, bringing their own flair to the spooky procession, while others show up in costume just to watch. This Halloween celebration in the city that never sleeps will surely be one you'll never forget.
Anoka, MN
This self-proclaimed "Halloween Capital of the World" earns a spot on the list for the age of its Halloween celebration. There is nothing in Anoka's history that makes it an unusually haunted city, but it does claim to have created the first public Halloween party and celebration in the United States in 1920 as a way to thwart local teenagers' pranks. Not only was it successful, but it has continued to this day. They continue to hold several parades and Halloween events for locals and the Halloween-obsessed from all over, who can't resist checking this location off of their Halloween bucket list.
Sleepy Hollow, NY
This quaint village is home to the Headless Horseman from Washington Irving's The Legend of Sleepy Hollow, but you don't have to be Ichabod Crane to be slightly spooked by the long shadows in this part of the country. The Headless Horseman Bridge and the Sleepy Hollow Cemetery set against turning leaves are genuinely spooky during the fall.
The entire month of October is filled with spooky Halloween events, like parades, street fairs, and nighttime cemetery tours. You can find plenty of family-friendly fun or hair-raising history and horror. On Halloween night there are block parties, a costumed 5k run, and the always-stunning Great Jack-O'-Lantern Blaze. Check out Sleepy Hollow's quintessential Halloween vibes as an alternative to the huge crowds of the Village Halloween Parade in NYC.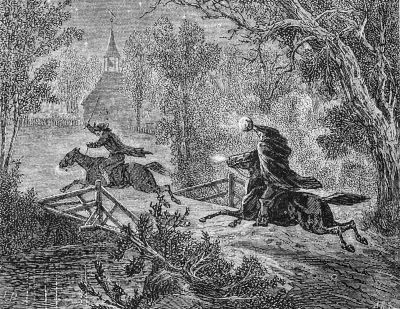 St. Helens, OR
The Spirit of Halloween Festival kicks off on October 1st, with the parade and pumpkin lighting in the town square. Halloweentown and Twilight were both filmed in the area, so every year, actors from the films and their fans head to this scenic area near Portland for all kinds of Halloween events.
Whether or not you're a fan of those movies, there are numerous other family-friendly Halloween activities throughout the month, concluding with the Little Trick-or-Treaters costume parade on October 30th. No matter when you visit in October, the giant jack-o'-lantern in the town square watches over all the festivities with its warm, glowing eyes.
Indianapolis, IN
The Irvington Halloween Festival is another family-friendly Halloween celebration that runs throughout the month of October. In the last week before Halloween, you will find a packed event schedule filled with activities like a Halloween Ball, a spooky organ concert, a séance called "A Night of Spirits," a zombie bike ride, a vampire run, parades, and a costume contest.
Whether or not you think of Indianapolis as a Halloween destination, rest assured that the creativity, love for the holiday, and the scenic fall leaves all evoke a perfect spooky mixture. Created in 1947, this festival claims to be the second oldest public Halloween celebration in America.
Chapel Hill, NC
This is probably not the first place you thought of when reading the title of this blog, but this college town's celebration is remarkable and surprisingly vibrant. People say that it began in the early 1980s, but it has grown hugely in the years since. Tens of thousands of costumed revelers pack the central blocks of Franklin Street and surrounding areas yearly, in fact, this party was getting a little bit too popular because attendance reportedly broke 80,000 in 2007, prompting local officials to try to minimize the size of the event.
It's still an incredible Halloween party, with somewhere near 35,000 people in attendance every year. Families largely trick-or-treat in the scenic residential neighborhoods on the periphery, as this Halloween celebration leans toward the college-and-up crowd who is looking to creatively costume and howl at the moon.
West Hollywood, CA
Created in 1987, the wild spectacle that is the West Hollywood Halloween Carnaval now frequently gets around 500,000 visitors. Stretching along Santa Monica Boulevard between North Doheny Drive and La Cienega Boulevard, this not-quite-family-friendly event attracts a wide array of performers and attendees dressed in elaborate costumes.
Known for its raucous party vibes and movie set-quality SFX makeup, attendees are encouraged to bring their best costume effort and leave their pets and kids at home. Bars and pop-ups along the way serve up food and drink specials and lively musical entertainment. This event rivals the people-watching you can expect from Halloween celebrations in cultural hubs like New Orleans' Frenchman Street or the East Village in New York.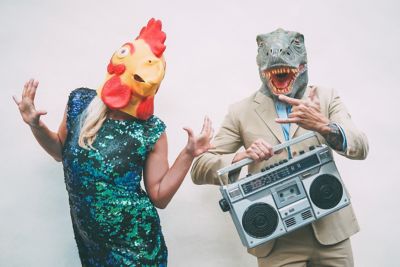 Louisville, KY
Locals will tell you that the best time to visit Louisville is either during Derby season or Halloween. The entire month of October is filled with all sorts of Halloween activities, beautiful fall leaves, and more haunted houses than you can shake a chainsaw at.
However, Halloween night brings some seriously fun and spooky vibes as locals and tourists flock to the Halloween Festival and Thriller Parade that takes over the downtown area. There's art, music, food, and the Halloween parade and Thriller reenactment to end the evening. This is a fun celebration if you want to bring out your best costume idea and watch hundreds of zombies stumble down Main Street on All Hallows' Eve.
Atlanta, GA
Little Five Points is a funky, artsy section in Atlanta that caters to all sorts of creatives, so you can imagine that they take Halloween seriously. There are numerous events on the 22nd and 23rd of October, including a Monster Hunt, Halloween Bazar, ghost tours, a BOOzy walk, a freak show, and a parade.
There is plenty of food, drinks, music, art, pop-ups, and people-watching to enjoy during the festival, which is sure to please any Halloween lover. This is one of the largest and most involved Halloween celebrations in the Southeast throughout the country.
Salem, MA
We don't need to explain why this city has such a well-attended Halloween celebration, because its spooky reputation precedes it. Halloween tourists come from far and wide to experience the city whose past echoes through history. Modern Salem mingles this authentic witch trial history with some fictional Halloween elements to make for an enticing October destination.
With such an innately macabre identity, Salem attracts tons of Halloween enthusiasts, especially when the holiday falls on a weekend. There are numerous events throughout the month, but Salem Haunted Happenings is the celebration to know about. Starting in 1982, Haunted Happenings has evolved into a month-long event, featuring all sorts of Halloween activities to satisfy those with a love of all things dark and spooky.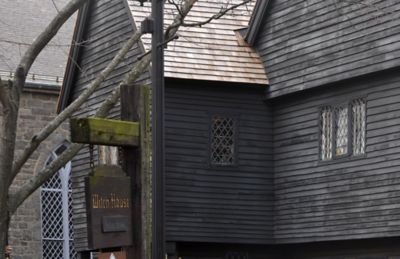 Are there any notable Halloween celebrations that we missed? Email us at spiritblog@spirithalloween.com to let us know! Also, if you like reading about other spooky places throughout the country, check out our blogs on The Top 10 Most Haunted Places in America and America's Creepiest Tourist Attractions.