Spirit Halloween created Spirit of Children in 2006, with one goal in mind–to make hospitals less scary for children. Spirit Halloween began by working with 11 hospitals to provide Halloween parties for children and their families. Since then, Spirit of Children has become a year-round philanthropic effort that supports Child Life departments in local hospitals all over the U.S. and Canada. Spirit of Children was excited to add four new partnerships in 2022, bringing the number of partner hospitals to 154!
How Much Has Spirit Halloween Raised for Spirit of Children?
Spirit Halloween has raised over $17 million dollars so far for Child Life departments in 2022, and over $110 million dollars since they began fundraising in 2007! Spirit is proud that 100% of your (and our vendor partners') donations throughout the year support Child Life departments in local partner hospitals.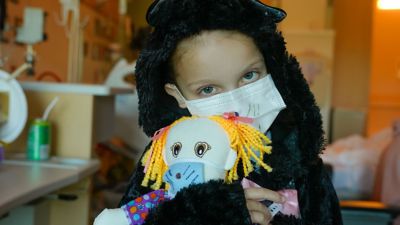 What Your Donations Provide
Closeness with family and time for play are both important for children, and when an extended hospital stay disrupts their lives, fear and anxiety can arise. Your donations help provide art supplies, tablets, toys, playrooms, and family rooms to help children in the hospital still feel like they can be kids, during an otherwise stressful experience. Because of contributions like these to hospitals in your local community, children are able to have some enjoyment added to their everyday environment. Toys and other hands-on materials are vital in providing not only a distraction to children during treatment, but also a sense of fun and normalcy for both children and families alike during what are undoubtedly very challenging times in their lives.
Each October, Spirit of Children provides costumes, accessories, décor, activities, and local Spirit store volunteers for Halloween parties for young children and teens. In 2022, Spirit volunteers participated in in-person Halloween parties at nearly 60 partner hospitals, following strict health and safety protocols. They also sent costumes, accessories, activity coloring books, crayons, and treat bags to all 154 partner hospitals for their respective Halloween celebrations.
Spirit of Children Sensory Motor Room
On October 12th, 2022, Spirit of Children celebrated the dedication of the Spirit of Children Sensory Motor Room at Mt. Washington Pediatric Hospital in Baltimore. This addition to MVPH is an exciting and tangible result of your donations in-store and online. Anna Snee, a Child Life Specialist at MWPH, told CBS Baltimore that: "…one of our main goals is to help normalize the child's experience in the hospital…So, a sensory room is really important to meet the needs of children with all different levels of abilities."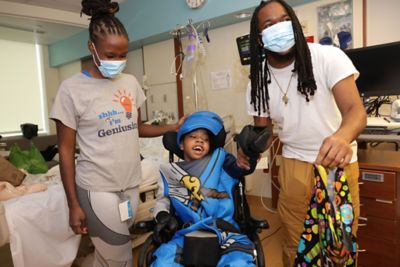 Child Life Services
Child Life departments address the essential emotional and psychosocial needs of children and their families. Support for Child Life Services allows patients access to art, music, aquatic, and pet therapies, as well as toys used for education, distractions, and entertainment during medical procedures. Programs like these are integral in offering support to young patients in their journeys to heal, and are made possible from the donations of members of local communities around the country. Additionally, Spirit of Children helps support Child Life salaries and helps hospitals acquire sensory and educational equipment. Nearly all of the funding for Child Life departments in the U.S. comes from philanthropic efforts, so the work of organizations like Spirit of Children is crucial.
Rick Tereo, Spirit of Children Team Lead and Director, Corporate Administration, Spencer Spirit Holdings, Inc., says: "We feel a deep sense of pride and privilege in our ability to support the critical work of Child Life at 154 partner hospitals across North America through Spirit of Children. Our fundraising efforts enable Child Life Specialists to provide therapeutic and emotional healing and coping to young patients, while doctors and nurses focus on medical treatment."
Help Us
Spirit recognizes that Halloween isn't just about things that go bump in the night.  Halloween also evokes warm feelings. Halloween is truly a magical time for people of all ages. Spirit of Children seeks to provide moments of celebration, creativity and entertainment for children at Halloween and throughout the year.
We look forward to contributing to Child Life departments throughout 2023 and for years to come! But we can only do that with your help and the help of our vendor partners.
You can help by donating online at any time. Donations of any amount help us improve children's lives. Want to help even more? When you donate, share it on social media with #spiritofchildren to inspire others and spread the word!