Comic Con may be over and the Javits Center is no longer buzzing with excitement, but we're still GEEKING out over the amazing fan moments we had at New York Comic Con 2018.
From epic Fortnite skins and Overwatch cosplay to a life-size Lego Spider-Man figure and Rick & Morty spaceship, there was no shortage of awe-inspiring Comic Con costumes. But aside from all of the head-turning cosplays, there was one thing that stood out the most: how each and every person spoke of their undying love for Spirit Halloween.
To show our fans just how much we appreciate their dedication to cosplay and all things Halloween, we couldn't resist sharing our favorite photos and favorite fan moments. We hope you love these awesome snapshots as much as we do, and who knows? Maybe they'll inspire some Halloween costume ideas for 2018.
And for even more creative Halloween ideas, be sure to check out the best women's costumes, men's costumes, and kids' costumes in all the land by shopping at Spirit Halloween.
Happy nerding!
Gaming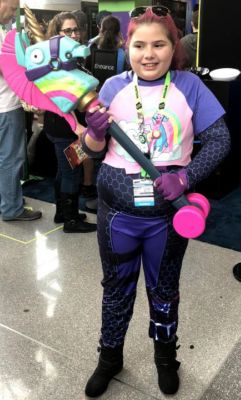 Nothing makes us happier than bumping into our very own Fortnite costumes on a stage like Comic Con, especially when it's a pint-sized Brite Bomber. You go, girl!


Oh, Fortnite burglar, you stole our hearts while rocking the GINORMOUS, undeniably chic Cuddle Bow Back Bling designed by yours truly.

So, how did it make us feel when we ran into our super popular Fortnite Skull Trooper skin costume? We can sum it up in just four words: BAD TO THE BONE (C'MON! We can't resist a good Halloween pun).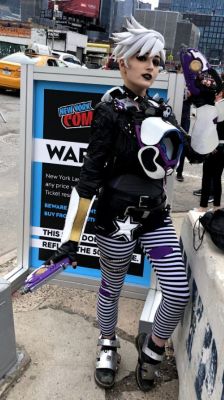 Tracer "blinked" her way through space straight to Comic Con in this super detailed Overwatch costume, which instantly caught our attention.

True to her Overwatch persona, D.Va uses her special force to combat evil all while impressing passersby.

Small but fierce Ezio from Assassin's Creed was accompanied by his rather dapper-looking, equally fierce friend.

"It's us! Marrrio!" These guys took a break from rescuing the princess to impress Super Mario fans with their super cool costumes.
Leading Ladies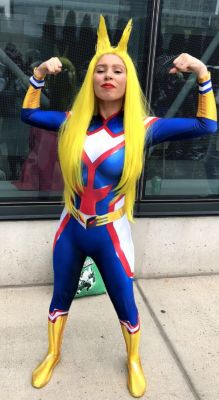 All Might from My Hero Academia showed up to Comic Con determined to defeat Nomu and save the day!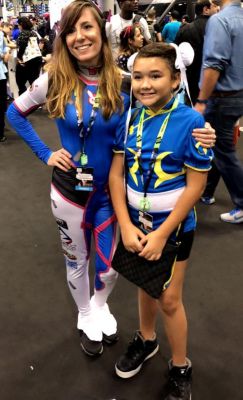 When D.Va from Overwatch meets Chun Li from Street Fighter, some major girl power happens.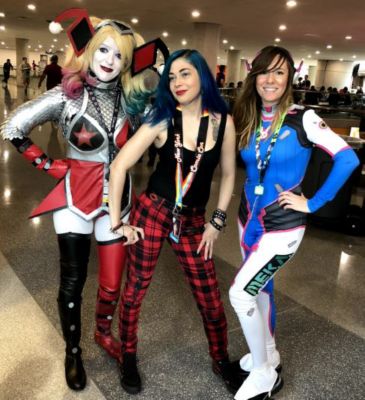 Watch your back, Harley Quinn squad! D.Va doesn't take any nonsense from sneaky villains!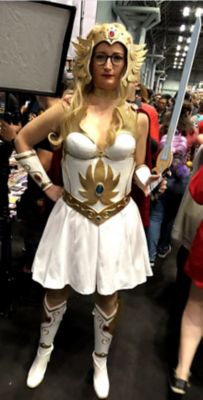 We just might change She-Ra's name from Princess of Power to Princess of Comic Con after getting a glimpse of this fan's fabulous costume.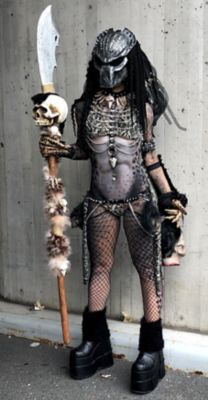 This die-hard fan turned heads in a Predator cosplay that looked like something straight from the movie set.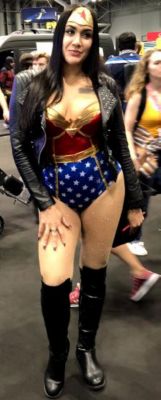 Nothing makes our hearts happier than Wonder Woman in a rocker-chic moto jacket. Just sayin'…
Popular Movies & TV Series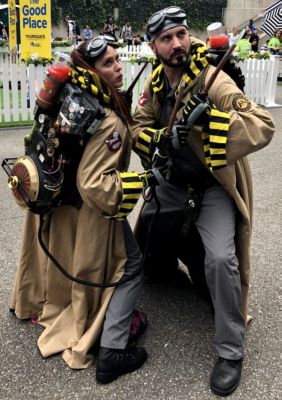 Better watch out, demonic souls! This dynamic duo ain't afraid of no ghosts, especially when armed with TWO Proton Packs!

This Dr. Who beauty was accompanied by her trusty Star Trek officer friend and their costumes were even more impressive IRL!

This Star Wars lover took our breath away in Queen Padme Amidala cosplay and we're still in awe. Wow, just wow!

What Comic Con would be complete without Shaggy, Velma and a shrunken Scooby-Doo?! Note: No Scooby-Doos were harmed in the making of this photo.

Talk about sweet Star Trek cosplay! This Trekkie demanded that we take her picture, or else.

Darth Sidious and his Star Wars sidekick looked into our future and told us that we're going to have the most epic Halloween season ever. So far, so good!

Holy cuteness overload! Dressed head to toe in our very own The Incredibles cosplay, this crime-stopping family truly was the fantastic four!

A Rick and Morty costume wasn't enough for this fan. He spent two whole months building this real-life light-up spaceship and it definitely paid off. Serious props to this guy!
Popular Anime Series

This scantily clad Goku wowed us with his Dragon Ball Z cosplay and impressively toned stature.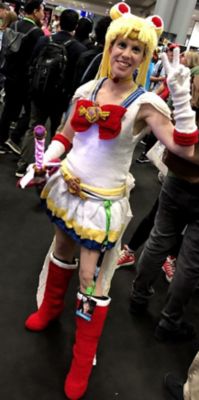 We couldn't believe the intricate details on this hand-crocheted Sailor Moon costume! #goals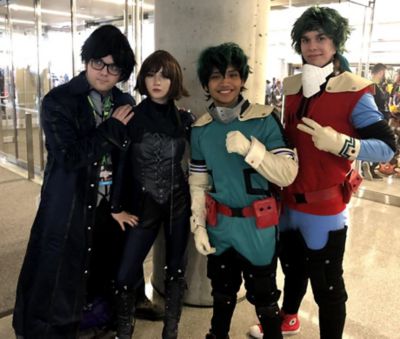 This crew totally played the part and turned heads in their My Hero Academia and Persona 5 cosplay mashup!
Comic Book Heroes & Villains

Riddler, Joker, and Harley, OH MY! This mischievous trio stole the spotlight with their killer DC Comic cosplay and acting skills.

We did a double take when we laid eyes on this armored Joker costume that looks like it jumped off the pages of your favorite comic book.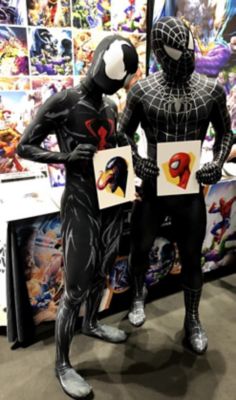 Spider-Man and his arch-rival Venom put their differences aside to check out some pretty sweet artwork.


We couldn't get enough of this wisecracking Deadpool family, especially the adorable, yet sassy little guy!

So many things came to mind when we came across this giant Spider-Man Lego figure: "OMG, this is amazing!", "I wonder how long it took to make this thing" and "How in the heck did this guy get up the escalator?"

Dressed head to toe in elaborate cosplay, Lady Loki and Magneto were the ultimate power couple of the afternoon.

Onlookers couldn't get enough of this classic Spidey, who was rocking classic Spider-Man cosplay and Captain America's trusty shield.

Harley meant business in her high-heeled sneakers and signature getup from Spirit Halloween.
Were you at NYCC? We want to see your pics, too! Send your favorite fan moments to spiritblog@spirithalloween.com for a chance to be featured on our blog or social media!