It's been almost a year since the release of Disney Junior's Vampirina, and this lovable little vampire has captured the hearts of children everywhere! From her sweet, caring attitude to her supportive friends and family, Disney Junior's Vampirina is a happy show that's perfect for children of all ages (especially if they love Halloween) and includes all the fun and silliness you would expect from a family of vampires running a "Scare B&B."
And for those of you who aren't as familiar with the show: Vampirina Hauntly has spent her early life with her family living in Transylvania, but that all changes when they pack up and move to Pennsylvania to open a Scare B&B for traveling ghouls and monsters. It isn't as though she's scared of moving, but she's definitely nervous about making friends with humans for the first time! However, it doesn't take long for Vee (as her new friends call her) to fit into her new lifestyle, while also still remaining true to herself.
The show celebrates all things Halloween, while still being kid-friendly and age appropriate—so is it any wonder why we love it?! Vampirina lets kids know that it's okay to like different things or to be on the "weird" side because it's those unique differences that make you who you are. Spreading a message of self-acceptance and being there for your friends, Disney Junior's Vampirina is as positive as its songs are catchy.  So if your kids aren't hooked on it yet, they definitely might be by the time Halloween rolls around!
And if your little one is getting ready to be as spooky as the Hauntleys this Halloween, then you'll be excited to know that we're releasing a line of Vampirina costumes that will be absolutely fang-tastic for any Halloween adventure! You can transform your little one into Vampirina, featuring her signature spider web dress and accessories that will have any toddler screaming in delight. And the included bat wing headband will perfectly complete the look!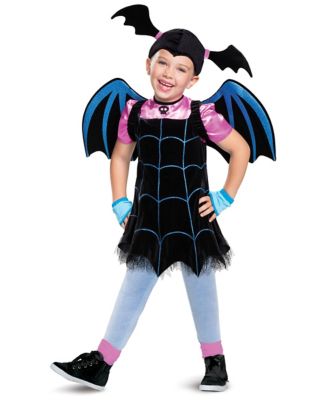 Or, if your little one wants to take center stage this Halloween, then they can rock out in Vampirina's signature Ghoul Girl dress, and even carry around a guitar bag that looks exactly like Vampirina's guitar from the show! Your toddler will feel like an absolute rock star, and you'll smile knowing that you made your little Vampirina's Halloween all the more special.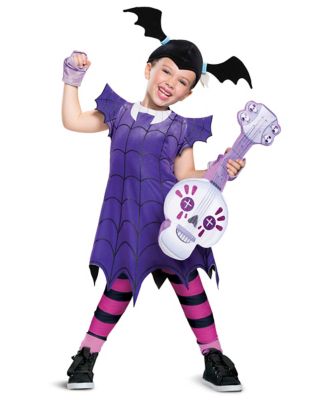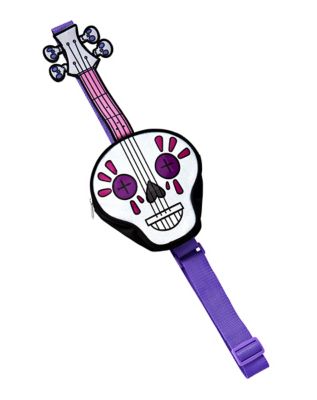 So it seems like vampires aren't so scary, after all! From dresses and tights to jewelry and makeup, Spirit has everything your little spider needs to be the best Vampirina they can be! So whether you're getting ready to take your Vampirina out trick-or-treating, or they want to steal the spotlight at their next costume party, this Halloween is sure to be the best one yet when you shop Spirit's fun selection of Disney Junior Vampirina costumes and accessories!