Halloween is only a few weeks away, and that means it's just about time for one of the holiday's most important traditions… carving pumpkins! If you're not sure how you'd like your jack-o'-lantern to look quite yet, you've come to the right place! Check out some our favorite pumpkin carvings below and get inspired before you start creating your very own!
The Classic Pumpkin
You really can't beat the classics! There's a reason that this tried and true jack-o'-lantern design has stood the test of time. The best part: This simple yet timeless design could not be easier to create yourself (heck, you've probably carved something similar on a past Halloween). Simply carve a hole in the top of your pumpkin, scoop out its guts, carve two triangle eyes and a nose and finish off the look with a jagged smile. Place a lit candle behind the face and you're all set!
The Puking Pumpkin
If you're looking for a less traditional approach to your jack-o'-lantern, the puking pumpkin may be the design choice for you! This gross gourd has seen better days, but it's certain to liven up your front porch on Halloween night. To recreate this design, you're going to follow the same process you would on any other jack-o'-lantern… except, you're going to take a hard turn at the "throw out the gross guts" step. Once you've finished carving your pumpkin's nauseous face, take those guts and place them along the front of its face. For a practical version of this nauseating design, fill his open mouth with guacamole, or any dip, for your next Halloween party (after thoroughly cleaning his insides, of course)!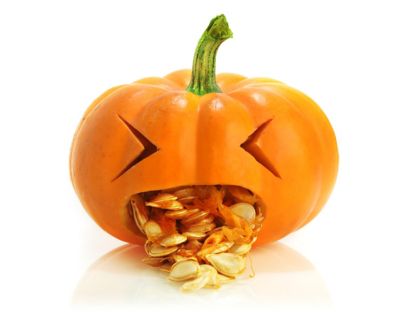 The Cannibal Pumpkin
For a more grotesque option, consider the absolutely diabolical cannibal pumpkin. This heartless jack-o'-lantern has turned on his brothers and sisters to satisfy his appetite for… other pumpkins! For this design, you're going to need two pumpkins, one large and one small. For the larger one, you'll carve and remove the guts as usual… just make sure you make the mouth extra-large! The unfortunate smaller pumpkin will be placed in the larger one's mouth. It's up to you if you want to keep this small pumpkin as is, or if you'd rather add a shocked expression (either carved or drawn on) to its face for extra horror. No matter which route you take, this monstrous pumpkin is sure to catch some looks on Halloween night.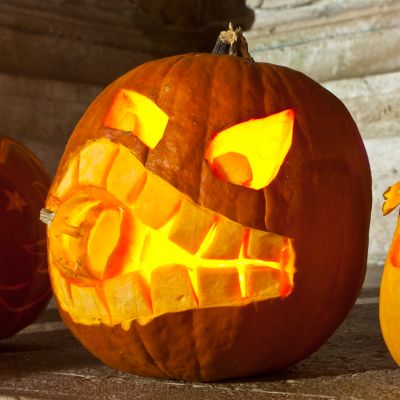 The Witch Pumpkin
Add some enchantment to your front porch with this spellbinding witch pumpkin! This design takes a creative route and utilizes the pumpkin stem as a gnarled, twisted witch's nose. For this look, turn your pumpkin on its side with the stem facing toward you, and then carve a hole on its new top. Next, carve as usual, scooping out its guts and carving eyes and a mouth around the stem nose! Add a witch's hat and some hair to complete the look! For a jack-o'-lantern like this, you're going to want to capture the look of a witch as accurately as possible, meaning the more warts, the better!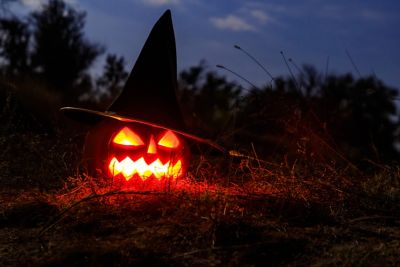 The Eyeball Pumpkin
Have an extra pair of eyes on your front porch on Halloween night with these absolutely eye-popping pumpkins! For these clever carvings, you'll need two pumpkins for each eye: one larger orange and one slightly smaller white. For the orange pumpkin, carve a large hole in the front for the opening of the eye and hollow out the inside. Next, carve or paint some eyelash detailing along the top and bottom of the opening for added effect. Then, paint an eye on the white pumpkin. The iris can be whichever color you like, but the pupil should be solid black. Make sure you add some red veins on the outer edges of the eye to make it more realistic! Finally, place the white pumpkin inside of the orange pumpkin, and you've got yourself a giant staring eyeball! If you've done it right, your two-in-one pumpkin should feature a painted white pumpkin resembling an eyeball inside of a hollowed-out orange pumpkin. Make as many as you'd like so you've always got someone looking out for your candy on Halloween night!
The Candy Holder Pumpkin
Use your pumpkin carving skills to your advantage on Halloween night and carve your very own candy holder! For this delectable design, carve your pumpkin with a huge, gaping mouth that's big enough to fill with all of your goodies for trick-or-treaters! It's up to you if you'd rather your pumpkin have a wide-open grin or if you'd rather include some jagged teeth for a spookier look! When you've finished your carving, you should have a hollowed-out pumpkin with a huge mouth ready to fill with treats! Make sure you refill your pumpkin's head throughout the night so it's never running on an empty stomach!
The Spider-Infested Pumpkin
Arachnophobia, the fear of spiders, is one of the most common human phobias… Embrace that on Halloween night when you create your very spider-infested pumpkin, sure to send trick-or-treaters running! To create this design, you'll need a pumpkin, mini spider decorations, and some spider web if you want to go the extra mile! Carve holes in your pumpkin and stow spiders in hidden places, and then cover the surface in spider webs and even more creepy crawlers! If you want to bring your pumpkin to life, carve a terrified look on his face before decorating!
Need some inspiration? Check out our Family Carving and Etching Kit, which includes everything you need for your next carved-up masterpiece! Send us photos of your own creepy creation to spiritblog@spirithalloween.com and your jack-o-lantern may be featured in a future post!