Murder Mystery parties are all the rage.
Happy Halloween, little devils! In light of the full moon (that's basically on Halloween this month), we're having some extra fun with your horoscopes. Not sure what to do on Halloween? Let the spooky stars be your guide.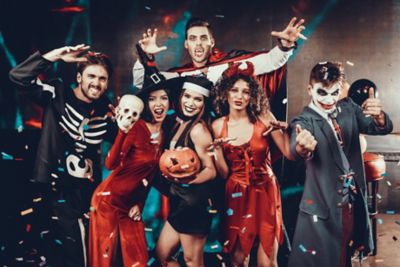 Must-Save Dates:
October 4: Mercury enters Libra
October 14: New moon solar eclipse in Libra
October 23: Sun enters Scorpio
October 28: Full moon lunar eclipse in Taurus
October 31: HALLOWEEN! (aka the spookiest night of the year)


What You Need to Know About Halloween 2023
Spooky season is here.
Mercury is finally out of retrograde after a long month of the Sunday scaries, just in time for you to perfect your Halloween plans without any chaotic interference. Libra has been prepping us for spooky season since September, but who better than Scorpio to take the reins right before Halloween? This month is the perfect time to let your fantastical alter ego run wild.  It's finally time to dress up, go full glam, ditch the rules, and indulge in the fun of Halloween!
How will you spend Halloween night this year? Carving pumpkins? Best dressed at the costume party? Scary movie night? Let the stars decide what spooky activity aligns best for your sign this Halloween.


What October's Horoscope Means for *You*
See what this Halloween has in store for your sign!

Aries – Go on a Late-Night Adventure
You're a thrill-seeker, Aries. Spend this Halloween doing something that gets your adrenaline pumping and heart racing. Try ghost hunting or head to a haunted house tour. Bonus points if it's in the dark.

Taurus – Dabble in Some Black Magic
You may not feel particularly social on Halloween, Taurus, but that doesn't mean you can't dabble in the occult. Bust out your Ouija Board, invite your coven (or don't), and reach out to the other side. Halloween is the perfect time to get in touch with your inner witch.
Your creative juices are flowing this month, Gemini. What better way to show off your lofty mind than to host an engaging murder mystery party? Create an elaborate storyline, don't skimp on decorations, and invite your best ghouls. We promise your party will be the talk of every Halloween to come.

Cancer – Have a Scary Movie Night
Scary movies and chills? We know you'd rather be cuddled up on the couch with a good horror movie than passing out candy all night, Cancer. Make some popcorn, create a spooky ambiance, and kick back with your favorite classic horror flick. Don't forget to invite all your BFFs if you can't handle the scares!

Leo – Host a Costume Party
You're the hostess with the mostest, Leo. Costume required? YES. Over-the-top theme? YES. Best dressed? DUH. You're always ready to party, but even more so this Halloween. Get ready to have the coolest celebration in town, and (per usual) all eyes will be on you.

Virgo – True Crime EVERYTHING
Turn on the true crime podcasts, true crime documentaries, solve a murder mystery game, ANYTHING. You're overly analytical mind is taking over and fully embracing the Halloween season. The paranormal may not spook you, but real-life horror sure does. Grab a pen and paper and bust the case!

Libra – Cuddle up With a Horror Novel
Your season is over, and you're feeling exhausted, Libra. Don't feel bad about cuddling up with your favorite horror novel or spell book. This is your sign to stay in bed for the night! Bonus points if you have your favorite nostalgic Halloween movie playing in the background.

Scorpio – Pumpkin Carving Contest
This is 100% your season, Scorpio. As true Halloween royalty, what better way to celebrate than flexing your amazing pumpkin carving skills? Your inner devil will love carving any creeping pumpkin creation!
There are two types of people in this world: The one who hides under the covers and the one who goes to investigate. You're the latter, Sagittarius. Your adventurous archer energy is ready for any supernatural surprises this Halloween.

Capricorn – Horror Maze
You love problem-solving and puzzles, Capricorn.  Finding your way through a horror maze or a horror-themed escape room is music to your ears. Put your spooky smarts to the test!

Aquarius – Go Trick-or-Treating
Who said you're too old to go trick-or-treating? You can always be found partaking in the unconventional Aquarius. So, while your besties might be out partying this Halloween, you'll be going door-to-door for some sweet treats.
We all know you're inherently psychic, Pisces. And yes, we're jealous. Your connection to the spiritual realm is at an all-time high this Halloween, so grab your witches and channel some supernatural magic.

What are you doing this Halloween? Watching your back, we hope… Check out The 8 Most Important Steps for Holding a Responsible Séance and How to Plan a Murder Mystery Party for more spooky season activities!