Unicorns ARE real and Spirit Halloween is here to prove it! Our team of unicorn experts here at Spirit Halloween has spent countless hours tracking down and studying these mythical creatures in the wild… The team traversed forests, scaled mountains, and followed rainbows all over the world, just to get a glimpse of this elusive animal. Why you ask? So we could perfect our magical unicorn costumes and accessories, just for you! It took a lot of hard work, but Spirit Halloween is proud to say that the research has paid off!
With an amazing array of Halloween costumes and DIY tips, you'll have everything you need to create the unicorn costume of your child's (or your) wildest dreams!
Unicorn Costumes for Toddlers
Toddler Winged Unicorn Costume 
Your toddler will love this adorable winged unicorn costume! This cute design features a glittery pink dress with pastel accents, attached wings, and a matching headband that'll have her feeling magical all night long.

Unicorn Costumes for Kids
Kids Unicorn Costume – The Signature Collection
What a magical day it will be! This unicorn costume is beautifully designed to give you an authentic unicorn look that is unlike the rest! The hi-lo tulle dress features sequin trim, so you'll be shining all day long! The cutout bell sleeves, floral horn headband and glitter wings are perfect for every little girl! Become your favorite majestic creature this Halloween!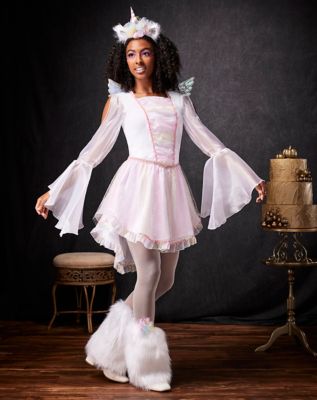 Unicorn Costumes for Adults
Adult Fluffy Unicorn Union Suit – Despicable Me 3
Grown-ups can believe in unicorns, too! You'll be nice and comfy on Halloween night in this adorable union suit. This one-piece wonder is the perfect pick for anyone looking to lead their herd (actually, fun fact: a group of unicorns is called a "blessing") on Halloween… And best of all, IT'S SO FLUFFY!

Unicorn Accessories & DIY Tips
Feeling crafty? Get creative and mix and match your very own unicorn Halloween costume with our multitude of mythical accessories! Complete your costume with a long, luxurious white tail or faux fur unicorn gloves! Give your face some fantastical flair, too, with our enchanting face decals and multicolor false eyelashes! And, of course, what unicorn costume would be complete without an elegant horn?
Feeling colorful? Get the essentials with our rainbow unicorn kit, which includes a multicolored unicorn tail and matching unicorn-horned headband! We've got the kids covered too with our kids' unicorn accessory kit, featuring a flowing blue tail and shimmering unicorn-horned headband!
Feeling captivating? Complete your enchanting ensemble with our unicorn makeup kit! You'll have everything you need to achieve a perfect multicolored, magical look. Need some makeup tips? We're here to help! Check out this step-by-step tutorial that will transform you into a beautiful unicorn in no time!
As you can see, Spirit Halloween has put a lot of thought into unicorn research… What we've found is that unicorns are majestic, they're sparkly, and wow, are they elusive… But we're pretty convinced that unicorns really do exist. Are you?