To celebrate National Pet Day (April 11), the cat and dog lovers here at Spirit Halloween are excited to share cute photos of our pets. There's nothing better than snuggling up with your pet after a long day, playing with your dog in the park, and getting to know their personality.
For those of you who have pets of your own, you know how each pet has their own way of interacting, from the cat who never comes out of their hiding place except to eat to the dog who's ready to make friends with every stranger they meet. Pets make our lives more fun and, according to the CDC, having a pet is good for your health! But if you love animals, you already know that pets add so much happiness, comfort, and support to our lives every day.
From our pet families to yours, Happy National Pet Day! Keep reading to see our adorable pets and their specialties.
Buddha, Senior Snuggle Specialist
Buddha, dressed up here as the ultimate "rufferee," is a lab/chow mix. Awww.
Reports to: Shawnee Alberici, Content Supervisor, Ecommerce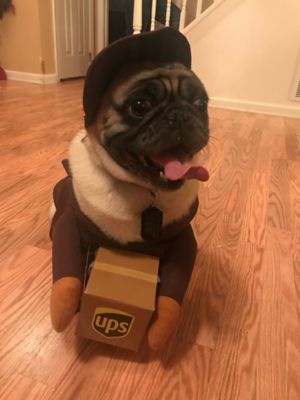 Kirby, Head Chaffeur
Plug Kirby, is ready for Halloween in this UPS driver costume.
Reports to: Brandon Cintron, Copywriter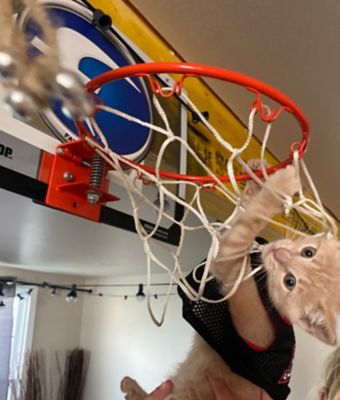 Reggie, Point Guard
Orange tabby cat, Reggie, has aspirations to be a pro basketball player (admit it, wouldn't you watch cats play basketball?).
Reports to: Tyler Douris, Copywriter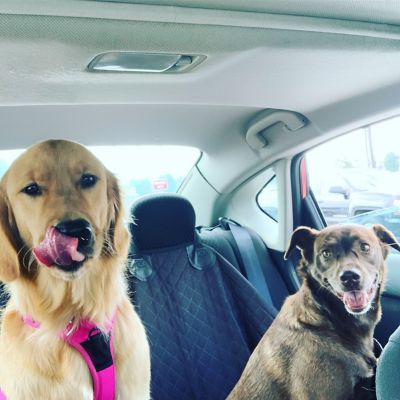 Stella and Pru, Chief Hair Distribution Officer and Chief Laundry Warmer
Stella, a golden retriever, and Pru, an Aussie mix, don't mind taking a ride.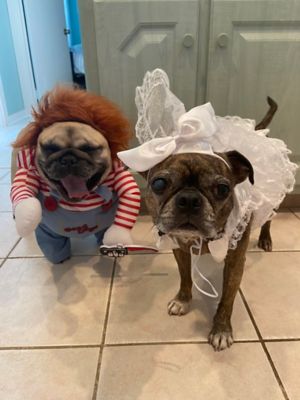 Titus and Indie, CFOs (Chief Fun Officers)
French bulldog Titus, who also goes by TT and Papa, and Indie, a half Boston Terrier/half pug mix, who goes by Mama or Mrs. Bear. Clearly, they can't get enough of Halloween—just like us!
Report to: Alexandra Mazza, Senior Content Manager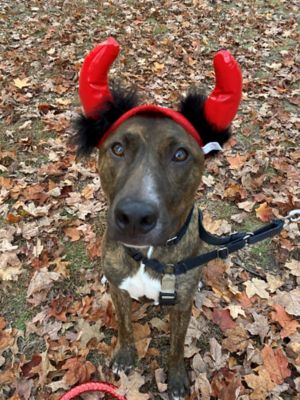 Philippe, Secretary Spring-y
Philippe, a Mountain Cur mix, wanted to get in on the Halloween costume fun with some devil horns of his own to match Carly's devil costume.
Reports to: Carly Pearlman, Assistant Manager, Social Media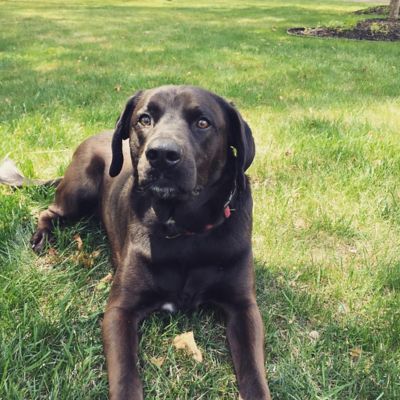 Dakota, Sr. Manager of Laziness
Dakota, a lab mix, is all about the lounging around life.
Reports to: David Roesch, Director of Ecommerce Marketing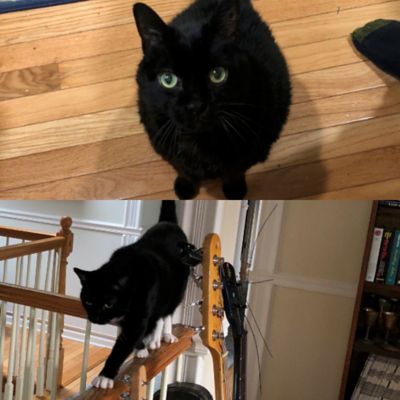 Alexander and Archimedes, Ministers of Mischief
Black cats Alexander and Archimedes are always ready for adventure.
Report to: Greg Simerlink, Senior Manager, ECommerce Marketing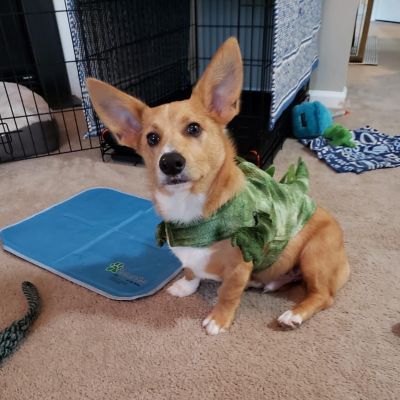 Gimli Porg Stranahan, Pillow, Carpet, and Blanket Taste Tester
Gimli, a Pembroke Welsh corgi, is ready to rule the world in this dinosaur costume!
Reports to: Veronica Stranahan, Copywriter, Ecommerce
Want to dress up your pet? Spirit Halloween has plenty of pet costumes so they can look even more adorable than they already are!