This blog is for the Halloween-obsessed. It's for those who can't bear the end of the Halloween season. Fans of Halloween wait all year for October 31, enduring other (less interesting) holidays, and it always seems like Halloween flies by too quickly. 
If you're the type of person who wants to extend the joyously creepy Halloween feeling, let's talk about some fun and easy ways to bring spooky vibes into your daily life, 365 days a year. This blog is ultimately about helping you find a sense of spooky joy as you keep the Halloween spirit alive all year, starting with the days and weeks immediately after it ends.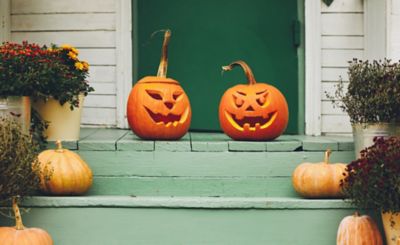 How to Celebrate Halloween in November
November can be a challenge for the Halloween-obsessed. Those of us who love the holiday suffer a particular longing in the weeks following All Hallows' Eve. Ease yourself down from your Halloween high with a horror movie-watching schedule that extends into November. Catch up on all of the movies you meant to watch before Halloween, even as you start to take your decorations down (if you're taking them down). The weather and the foliage are still largely the same, so keep burning your Halloween candles and hold on to that treasured feeling for a little bit longer. 

How to Celebrate Halloween in December
Christmas presents some interesting spooky potential because it has surprisingly scary elements. It is another holiday when humans defy the fear of the coming darkness of deep winter with ornate light displays and celebrations. True Halloween lovers can lean into the spookier side of the Christmas season with the types of holiday decorations they choose, the movies and television they watch, and by telling ghost stories.

There's a vibrant tradition of Christmas ghost stories, largely inspired by the work of Charles Dickens, so this can be a fun way to bring some Halloween spirit into the Christmas season. When everyone is roasting chestnuts over an open fire, you can suggest sharing ghost stories, in addition to presents. If anyone questions it, you can just reference the classic Christmas song, "It's the Most Wonderful Time of the Year," when Andy Williams sings: "There'll be scary ghost stories / And tales of the glories / Of Christmases long, long ago".The Germanic legend of Krampus has also become increasingly popular over the last few years, resulting in several horror movies that are perfect for Halloween lovers during the holidays. This Christmas demon has become a perfect counterpoint to Santa Claus for Halloween and horror lovers in December. Some haunted attractions even reopen around the holidays for creepy, Christmas-themed attractions featuring Krampus, evil Santas, and demented elves to help you enjoy some Christmas fear.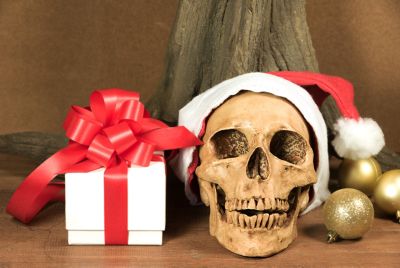 How to Celebrate Halloween in Winter
After the joy of Christmas has passed, we settle into the deeper, darker months of winter (unless you live in an area that's sunny all year long). This is an ideal time to read and tell scary stories and urban legends with friends while we're huddled around fires, holding warm drinks, and deeply aware of the earth's darkness. 
For those kept indoors by colder temperatures, we start to get a bit of cabin fever, so it's a perfect time to enjoy classic horror movies that deal with snowy isolation, like The Thing and The Shining, as well as lesser-known winter horror gems like Pontypool. Cold winter months are also a perfect time for digging into some longer horror novels you've been meaning to read while the icy temperatures keep you indoors.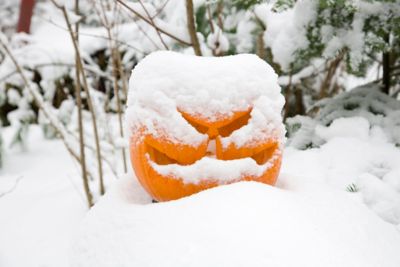 How to Celebrate Halloween in Spring
Spring may be the most difficult time of year to channel your Halloween spirit because all of the symbolic rebirth makes it difficult to focus on the dark and spooky sides of life. But can we at least admit that the Easter Bunny can be creepy?! (Donnie Darko and Twilight Zone: The Movie may have forever changed how we think about rabbits.)
However, the budding celebration of "Halfway to Halloween" in the spring is a great opportunity for Halloween lovers to celebrate the halfway point to their favorite holiday. This is a great time to throw a Halloween or spooky-themed party. You can celebrate the warmer weather and indulge in spooky delights by hosting a coven party for you and your witchy friends, a full moon party, or a Halloween-themed barbecue.
Some haunted attractions started to open halfway to Halloween events in the spring, and even limited-run attractions for some of the other holidays like St. Patrick's Day or Easter. This is a great way to experience some of the spooky stuff that we love so much when the world feels the least scary.





How to Celebrate Halloween in Summer
It's easy to bring the Halloween spirit to your summertime activities. As the days get warmer, we find ourselves engaged in all of the activities of horror movie protagonists. We may find ourselves on the coast like the characters in Jaws or I Know What You Did Last Summer. We may find ourselves going camping or swimming near a lake, which makes slasher movies like Friday the 13th semi-relatable and seasonally appropriate.
Summer is also a time for road trips, travel, and adventures with friends and family, so use these months to visit some creepy tourist attractions. You can treat yourself to haunted adventures with history tours and self-guided spooky fun in one of America's most haunted places or one of its most haunted cities.
The vibrant summer fields of corn and green leaves will soon be yellow and brown, creating the fall Halloween aesthetic we crave. As summer comes to a close, the exhilarating crispness of the Halloween season enters the air. You can feel the world teetering between two places, as the veil between worlds begins to thin. This is also when you can start planning your home haunt and beginning to decorate in the lead-up to another Halloween season.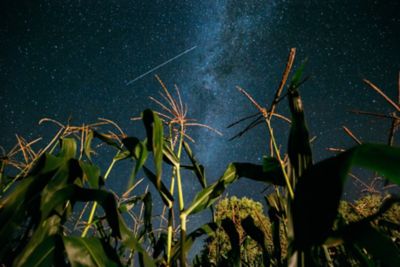 Year-Round Halloween Activities
Keeping the Halloween spirit alive year-round might require some planning, but it's well worth it. Remember, you never need an excuse to celebrate Halloween, whether that means throwing a Halloween-themed party with friends, or just watching a scary movie!
You can also choose home décor and clothing that shows your love for October 31st. Halloween lovers often feature their favorite horror movie posters and collectibles around their homes and choose music that fits their spooky interests.
When you pick up your phone you can listen to spooky podcasts, play spooky video games, watch scary TikToks, or read scary true ghost stories on Reddit. There are always plenty of spooky or Halloween-adjacent ways to occupy your time.





Email us at spiritblog@spirithalloween.com to let us know how you choose to carry Halloween with you after October 31st. Good luck with your off-season Halloween vibes and we look forward to seeing you again next year! Until then, keep following our blog and our social media accounts @spirithalloween to stay up-to-date with all things Halloween throughout the year.