Even when summer is still in full swing, we can't contain our excitement for Halloween! Instead of waiting months to get into the spooky spirit, we're getting this party started right now with a Halloween-themed barbecue. Are you in?
Summer Halloween Party Outfit Ideas
Our first order of business is the dress code. Costumes are mandatory! Let your guests know ahead of time that their costume is their entry ticket to the blood-curdling barbecue.
Hold a Costume Contest
Get creative with a costume contest. Choose a few titles to award to your guests, like Best DIY Costume, Funniest Costume, Best Summer-Themed Costume, Best Couples' Costume, and Most Original Costume. Fill totes with Halloween candy to be handed out to the winners!
Prepare Halloween-Themed Food
A good barbecue is nothing without mouthwatering food. With a little imagination, you can turn classic barbecue dishes and sides into Halloween-inspired masterpieces. Here are just a few examples:
Veggie Jack-O'-Lanterns: Wash and dry fresh bell peppers. Slice off their tops and carve faces into them, just like you'd carve pumpkins. Stuff them with carrot sticks, broccoli, and sliced bell peppers for an adorably spooky (and healthy) snack!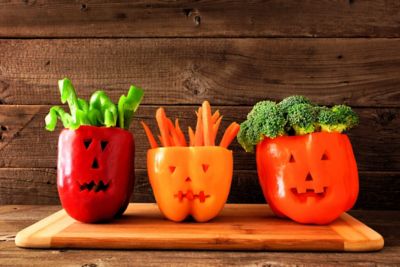 Freaky Fruit Salad: Cut a watermelon in half and hollow it out. Fill it with toothpick skewers stacked with whole green grapes (eyeballs) and halved blueberries (pupils). Round out the gory mixture with chunks of watermelon (brains)!
Banana Ghouls: Cut several bananas into halves, allowing each half to stand up on a plate. Use chocolate icing to draw spooky faces on each one and freeze them overnight. Enjoy your frozen ghost bananas!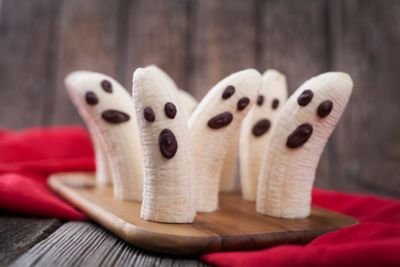 Hot Dog Fingers: Grill up those hot dogs and place them on fresh buns. Cut a shallow oval about 1" x 1" in size at one end of each hot dog to create fingernails. Make slice marks to create knuckles, and add a squirt of ketchup (blood) at the base of each hot dog.
Set Up Halloween-Inspired Games
Let the Halloween games begin! These simple games are sure to keep guests of all ages entertained.
Spider Web Stretch: Organize your guests into teams, and provide each group with a bag of fake spider web material. Set a timer for five minutes. The team who manages to create the largest spider web before time runs out wins!
Bobbing for Apples: Traditionally a fall activity, bobbing for apples can be a refreshing summer game. Fill a large container with cold water. Throw in some apples, and take turns picking them out by mouth while blindfolded.
Watermelon Carving Challenge: Write the names of 20-30 well-known people (think historical figures, professional athletes, and celebrities) on small scraps of paper. Challenge your guests to choose a name from a hat and carve a watermelon to look like their chosen person. Do you think you'd be able to identify the face of Bob Ross carved into watermelon?
Go Wild With Halloween Decorations
It may be a challenge to turn your summer scene into a spooky one, but the right decorations will do the trick.
Use Halloween Drinkware: Serve cold drinks in ghoulish glasses like these stemless tarot glasses! For inspiration, check out some of our favorite spooky mocktails!
Invite Spooky Guests: In addition to your closest friends, invite your favorite animatronics to your Halloween barbecue. Animatronics can transform a simple gathering into a ghastly circus, a haunted graveyard, or a spine-tingling cornfield in seconds.
Fire up the grill and have fun hosting the Halloween barbecue of your dreams! And once you get a taste for celebrating Halloween during the summer, why stop there? Work the thrilling things you love about Halloween into your everyday lifestyle. Happy haunting!