Halloween costume trends come and go, but there's one thing that's remained unchanged over the past 35 years: we love our fans SO much, it's scary! That's why we're declaring every Friday leading up to Halloween as "Fan-Appreciation Friday".
Are you the ultimate Halloween fan? Were you daydreaming about your next Halloween costume while beach-goers were basking in the sun? Well, we're dying to hear from you!
Show us your spooktacular spirit by emailing spiritblog@spirithalloween.com or mentioning @Spirithalloween on your next Halloween-themed Instagram for a chance to be featured on our blog or social channels.
Here are some FANG-tastic fan photos we received this month. Happy haunting, you boo-tiful souls, you!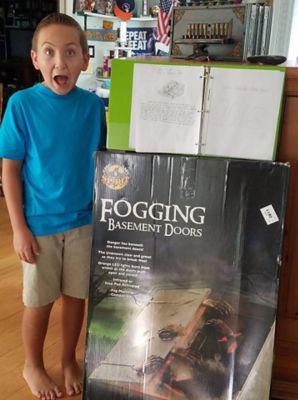 This 11-year old guest loves our animatronics so much that he created his own book to house all of our backstories as well as hand-drawn pictures! Now THAT'S dead-ication!
>
@2twinsandmore gave a whole new meaning to DOUBLE TROUBLE!  👻👻 EEEK!
Clearly, @dorkzombie ain't afraid of no ghosts when armed with our exclusive Ghostbusters Proton Pack!
A baby holding zombie babies?! How adorably creepy! Thanks for the laughs, @zombdean
Look out, Riverdale High! @luxy_lace and crew are coming for you!
Who ya gonna call? Clearly @joshbrownisalive, who's ready to battle ghosts with his dapper looks and exclusive Ghost Trap!