We're officially halfway to Halloween! This exciting day takes place around April 30th each year, and it's the perfect excuse to get a head start on your favorite holiday. Your tulips will have to take a back seat to Jack-O'-Lanterns for a while because it's time to embrace the spirit of Halloween!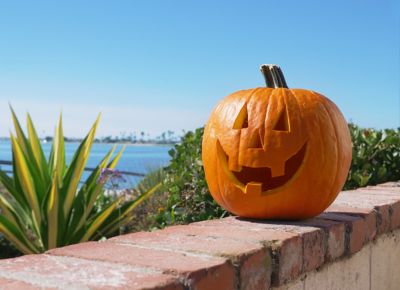 Here are just a few ways to celebrate Halfway to Halloween:
Play Halloween Music
Nothing sets a spooky mood quite like Halloween music! Even the sunniest spring day feels delightfully creepy when you're blasting "Thriller" by Michael Jackson in your kitchen.
To really transform the mood, play a classic horror movie like A Nightmare on Elm Street while you go about your day. Horror movie scores are designed to set an ominous tone, making them the perfect backdrop for an exceptionally creepy experience. Check out our Horror Film Scores blog for some of our favorite recommendations!
Decorate for Halloween
You don't have to wait until October to put your Halloween décor on display. Your animatronics and props should not spend 364 days in storage. Dust off your skeletons, light your pillar candles, and immerse your senses in Halloween wonder.
When your friends and neighbors see giant spiders and tombstones on your lawn, they'll be reminded that Halloween is creeping closer. Cue the goosebumps!
Give Out Halloween Candy
Candy is an integral part of any Halloween celebration. Since it's unlikely that trick-or-treaters will be roaming the streets six months in advance of Halloween, you'll need an easily accessible, attractive candy display. This Beetlejuice Sandworm candy dish is sure to draw lots of attention!
Candy is thrilling on Halloween day when it's expected to be available at every corner. But a house that unexpectedly has free candy on a warm spring day? That's even sweeter.
Wear a Halloween Costume
Deciding what costume to wear on Halloween is hard. You only get one chance per calendar year to nail it, and there are so many options to choose from. If you celebrate Halfway to Halloween, you'll finally have another chance to find the perfect Halloween costume!
Are you torn between an intricate alien costume and a hilarious inflatable cow getup? Good news! You now have two opportunities to showcase your costume creativity.
Host a Halloween Party
Your lawn is lined with creepy pathway markers, horror movie soundtracks are filling the air, and you've found a killer costume. Of course, you have to throw a Halloween party now!
Treat your friends and family to a full-fledged Halloween party in the middle of spring. They'll be happy to trade a predictable day at the park for something exhilarating and different.
Start Planning for the Big Day – Halloween!
Every neighborhood has a house that stands out on Halloween. If you've ever stopped to admire their dazzling lights, lifelike animatronics, and haunting props, you've likely wondered how such an elaborate masterpiece came to be.
Planning is the key to a successful Halloween. Start planning your décor theme, costume, and Halloween celebration now. With a bit of forethought, your Halloween costume or décor theme could be the talk of the town for years to come.
Happy Halfway to Halloween!