When it comes to dressing up for Halloween, your costume is never complete without the finishing touches. Whether it's as simple as putting on a set of false lashes or a little more complex like applying a full face of makeup, this will really help pull your costume together. Grease and cream makeup make it easy for you to turn into a sinister skeleton, a magical fairy, or practically anything your imagination comes up with!
Ready to completely transform into a brand new character? Awesome! But what exactly is the difference between grease and cream makeup? Let's break it down: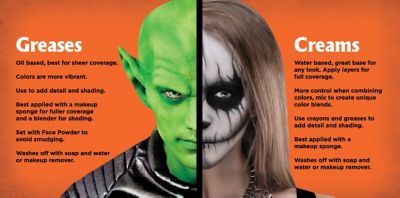 Grease Makeup
Oil based
Best for sheer coverage
Colors are more vibrant
Best applied with a makeup sponge for fuller coverage and blender for shading
Set with face powder to avoid smudging
Washes off with soap and water
Cream Makeup
Water based
Great base for any look. Apply layers for coverage
More control when combining colors
Mix to create unique color blends
Use crayons and greases to add detail and shading
Best applied with a makeup sponge
Washes off with soap and water or makeup remover
Want to see it in action? Check out this video:
For an awesome example of how these types of makeup help you transform into one of your favorite characters, check out this Billy Butcherson makeup tutorial from @clittlecosmetics, one of our influencers.
Now that you know all the details, start planning your next Halloween makeup look! Shop all of our grease and cream makeup here, and show us what you come up with! Send us a picture of your look to spiritblog@spirithalloween.com for a chance to be featured in a future post.
Looking for more Halloween makeup FAQs? Check out:
What Type of Fake Blood Should I Use?