Prepare for liftoff, space explorers. Our new and out of this world astronaut helmet is now here and in stock!
Dressing up and cosplaying as astronauts navigating through the unknown depths of space has never been more fun or easier. Add your own personal touch of style to any astronaut helmet and you'll fit right in with any space crew. Soaring the skies and discovering uninhabited planets has never looked so stylish!
Looking for some awesome astronaut cosplay ideas? You've come to the right part of the galaxy.
With our easy-to-follow step-by-step guide, you'll be ready to begin your next interstellar voyage in no time.
Step 1. Prepping your space helmet
The first step to customizing your very own astronaut cosplay is to set yourself apart from the rest of your crew. Using spray paint or colored duct tape you can change the appearance of your helmet to be your favorite color!
Step 2. Accessorize
Once you've picked out your color, you're going to want to accessorize! By using props or items you can easily find or create with household items, you can make your astronaut cosplay stand out. Here's a hint: match your prop with the color of your helmet for a coordinated look.
Is your astronaut stuck on bathroom duty? Try taping a roll of toilet paper on top of your helmet for a hilarious look that'll have your friends laughing out loud.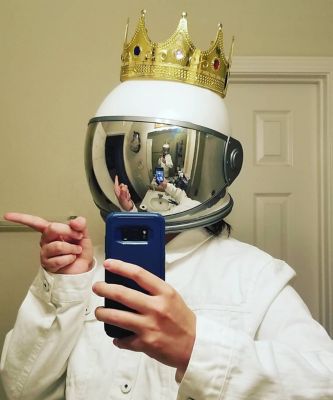 Think you're the king of the ship? Bust out a crown and wear it proudly just like @the_broasaurus.
Are you the one keeping everyone on the ship fed? A chef hat might be exactly what you need to finish your look!
Just because we're in space, doesn't mean you can forget about social distancing! Slide a mask over that helmet and your fellow astronauts will thank you.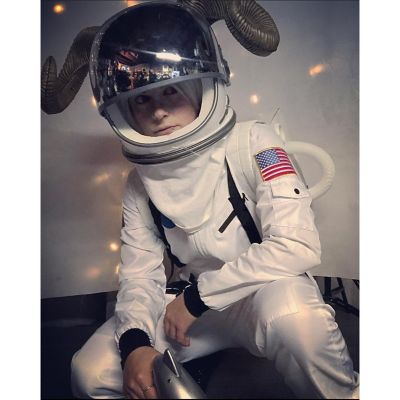 Show off your demonic side by adding some wicked horns to your helmet just like @blackbird_dixon.
The options for customization are nearly endless. Put your creativity to work and see what other original ideas you can come up with.
Step 3. Complete your look with an outfit
You've painted your helmet and chosen your prop, and now it's time to complete that look with an outfit. With one of these fun outfits, you can take your look to the next level! You'll feel just like you're a part of an actual space crew once you complete your cosplay with a fun costume. Here are some of our top picks: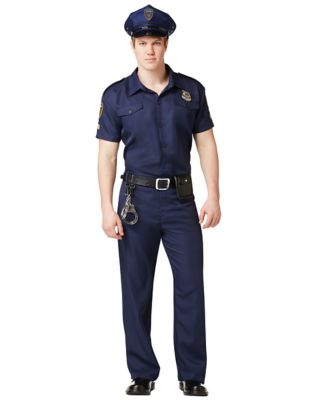 Keep order and peace on the ship by adding this police officer costume to your cosplay. No one will try any shady business around you.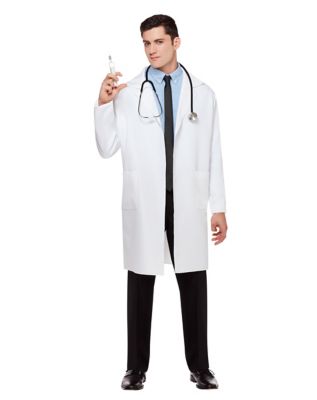 Everyone will be healthy and happy once you add this lab coat to your astronaut cosplay. Someone's got to keep the passengers alive!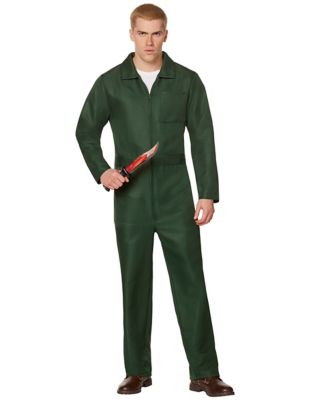 You'll always look ready for some hard work maintaining the ship with one of these jumpsuits.
Step 4. Rock out!
Now it's time to bring your astronaut cosplay to life. Grab your helmet, add a prop, put on your space suit, and get ready for takeoff!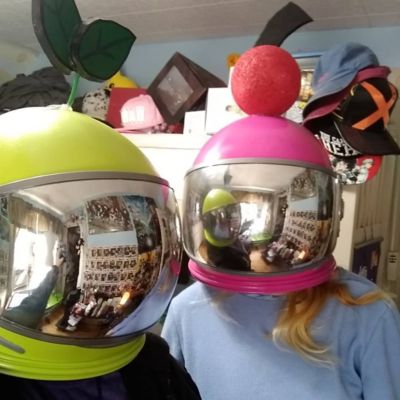 Here are some pics from our friends @woodland.elf.cos and @creativelapse to spark even more inspiration.
Don't forget to snap some unforgettable pics of your own and be sure to tag us on social media @Spencers. We can wait to see what kind of cosplay you come up with!