Looking to try something new this Christmas season AND spread a little extra holiday cheer? Then you should totally try your hand at some neighborhood Christmas caroling with your friends and family! Perfect timing, too, because we were just about to go into detail about some of the most important things that you need to know before going out for a night of Christmas caroling on the town!
Warm up those singing voices, because after you read our list you'll be more than ready to step outside and get right to caroling! As long as you follow along, we have no doubt that you'll have a wonderful time Christmas caroling along with your friends and family this holiday!
Plan Ahead
Preparation is key. We put this tip at the very top of our list because we know just how important it is for a successful night. Like all things in life, to avoid any confusion and to maximize your chances of having the best time possible, it's always good to be well prepared. In this case, that means following along with everything else that's going to be on our list! But planning ahead is a great first step in the right direction!
Pick the Right Music
One of the most common misconceptions about Christmas carols is that they always get looped together with Christmas music. Although this isn't completely wrong, there's a big difference between traditional Christmas music and Christmas carols. You may not know the difference, but Christmas music is mostly secular while Christmas carols are traditionally religion-based. With that being said, you should always try to pick music that your group is most comfortable singing before you hit the streets. Typically, songs that are known for being short, sweet, and simple tend to work the best. Print out some of the lyrics to your music so everyone can follow along, or make sure you go with a holiday classic that everyone is already familiar with! Here's a quick list of some of our classic favorites right here!
Jingle Bells
12 Days of Christmas
Deck the Halls
The First Noel
Silent Night
Joy to the World
Auld Lang Syne
Up on the Housetop
O Christmas Tree
We Wish You a Merry Christmas
 Plan Your Route
Once you begin your trek into the neighborhood you want to make sure you're able to sing for as many houses as you can before your group gets too cold or too tired to continue. To ensure the best night possible, you should always plan your route through the neighborhood together as a group before you head out. This ensures that everyone sticks together, is safe, and is in agreement to where and for how long the group will be caroling for. It's okay to get sidetracked once or twice along the way, but it's important that the group sticks together and follows the route best they can to stay on track and on time.
Dress the Part
Completely immerse yourself in the spirit of Christmas by completely transforming your wardrobe into an old Victorian era-style Christmas caroler. Going to the local thrift store to scrape together an old looking outfit can be a hassle, but if you want to go all out for the holidays, then you can dress up the entire family as carolers with some of our official holiday caroler costumes. These costumes look like they're right out of the 19th century and are perfect for getting fully into character. If you're not so much into the classic look, then any type of Christmas attire like an elf hat or reindeer antlers will add to your Christmas magic. See some of our awesome caroler costumes below for some inspiration!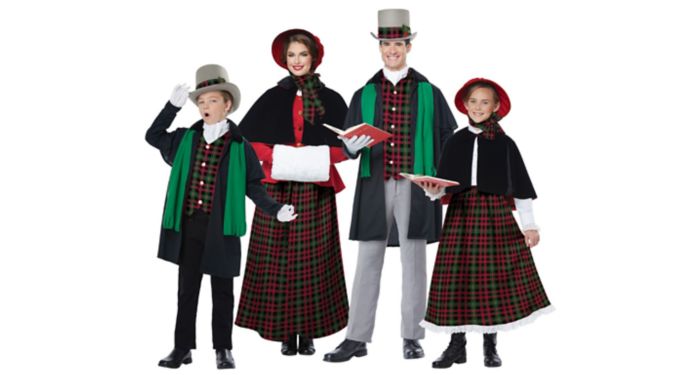 Kids Holiday Caroler Boy Costume
Kids Holiday Caroler Girl Costume
Adult Holiday Caroler Man Costume
Adult Holiday Caroler Woman Costume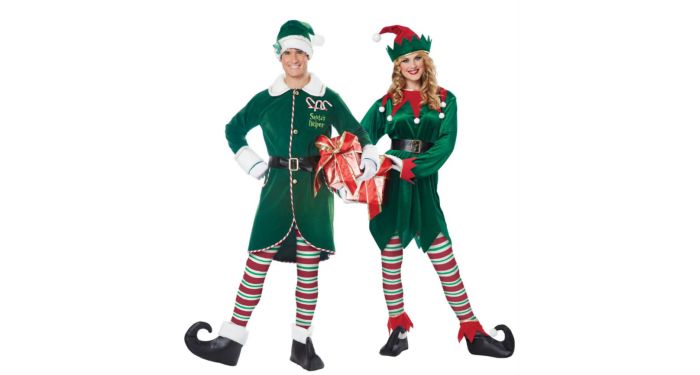 Practice Beforehand
Practice makes perfect! Believe us when we say that you don't want to be in a situation where you're the only one singing while everyone else nervously just hums a tune in the background. Can somebody say "awkward"? Even by doing just a walk through of the lyrics and going over the tune will help prevent any awkward silences and smooth out any kinks. It's best to coordinate who will be the lead, and everyone else can follow so they know when to start and stop together as a group. By no means will anything be perfect, but taking 10-15 minutes to organize and develop some kind of cohesiveness will be extremely beneficial in the end.
Watch Your Timing
Timing is everything when it comes to Christmas caroling! You don't want to be rude and interrupt another family's dinner, but you also don't want to show up too late to where you become a disturbance before bed. So what is the perfect window to start knocking on doors? Well, usually just after dinnertime and right before it gets too dark. Just in case, you should always come prepared by bringing a flashlight to light the way if it gets too dark too fast. Also, be sure to check the weather before so you can dress appropriately and beat the elements. You don't want to step outside and then five minutes later, you're in the middle of a torrential downpour!
Bring Snacks
Make sure everyone in your group stays hydrated and energized by bringing along some snacks and refreshments for the road. You don't want to be carrying much on your journey so small snacks like pretzels and trail mix are perfect for storing in small sandwich bags. Bringing along a thermos full of hot apple cider or hot chocolate isn't such a bad idea either to fight back against the cold! Bottled water is great, too, for keeping the group well-hydrated after all that singing.  If you're feeling generous, you can bring along some treats to give away at the door to really make someone's night extra special!
Be Polite
One of the most crucial things to remember when you're out Christmas caroling is to always remain polite! Nobody asked you to come to their door, and although it may seem like a kind gesture to you, not everyone is always in the same Christmas spirit, and some may be more of a scrooge than others. With that being said, try not to stay at the door for too long if you can tell the person is uncomfortable, and always make a graceful exit. You definitely shouldn't trespass or walk onto private property either, but you already knew that, didn't you?! Oh, and don't forget to smile!
Be Safe
With proper preparation, safety should be no issue at all, but it should go without saying that you should always remain safe when you go out Christmas caroling. This includes carrying proper lighting, sticking to the route as a group, staying on the sidewalks and dressing warm. Take as many steps possible to ensure your group's safety for the night to guarantee a festive and fun family experience for everyone involved! The more you plan, the less you'll have to worry! Plan well enough, and you won't have to worry at all! Did we mention that you should probably plan before? Well, you should!
Have Fun
The most important thing to remember along your Christmas caroling journey is to always have fun! The whole point of singing Christmas carols is to get everyone in the Christmas spirit and to spread that holiday cheer! Christmas caroling has been a holiday tradition for hundreds of years and is a great opportunity to step out of your comfort zone and enjoy the company of friends and family by doing something you've never done before! Who knows? Maybe you'll love it and make it your very own tradition that you'll do every year! Wouldn't that be something?!
But that's all we got for now! For more of the best holiday ideas and inspiration, be sure to check back on our blog for more DIY tips, party ideas, costumes, and more!
And, if caroling isn't really your style and you're still looking to spread some holiday cheer, then be sure to stop on over to www.spirithalloween.com for more of the best holiday costumes and accessories around!
Break a leg out there!