Welcome Back to Warren Valley, Ohio! Relive your favorite cult Halloween movie Trick 'r Treat at Spirit Halloween!
You know about Spirit Halloween's horror costumes, but we bet you didn't hear about THIS, yet! Sam has a trick up his sleeve, and you might like what he has in mind. Trick 'r Treat, this Halloween horror classic that every horror movie fan adores, is coming back into the spotlight. With a classic plot of an evil trick-or-treater, Sam's story can't be replaced, and that's why this comeback is SO special. We've been waiting to share Sam's surprise with you, and now we can! We are hauntingly happy to introduce a new collection of Trick 'r Treat costumes, décor, and more available online and in stores!
Let's take a stroll through Warren Valley, Ohio to get a glimpse of what Spirit Halloween and Sam have brewing…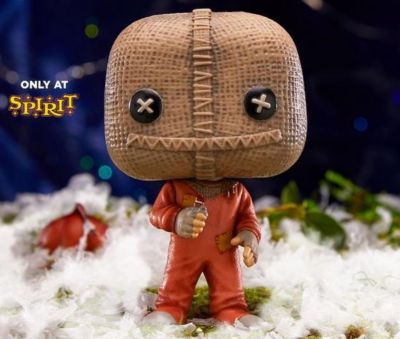 If you consider yourself a hardcore horror collector then you'll love what we've got up first! Trick 'r Treat fans will love adding this officially licensed Sam with Razor Candy Pop Figure to their collection. Featuring Sam in his signature orange attire and burlap mask, this figure looks like it came right off of the screen! And the best part? This amazing Sam pop figure is one of a kind and can only be found here at Spirit Halloween!
This one may seem obvious to show up in Warren Valley, but it's a must. This Trick 'r Treat Sam costume, which comes in kids' and adult sizes, is sure to bring scares throughout the neighborhood. When you can't see someone's face, it leaves you wondering. You tend to grow wary of that person, and that's exactly what Sam wants. This costume will be perfect for top-notch Halloween spooks because of its mysteriously creepy design. You'll be sure to let everyone know the rules of Halloween and look the part while doing it!
New this Halloween we have lots of updated Sam Trick 'r Treat costumes. If you want a fun party twist on the classic Sam costume, try our Adult Sam Trick 'r Treat dress. This new take on the classic Sam costume is an easy way to show your fandom and look great.
For the real Trick 'r Treat fans who may have been on the cursed school bus that went off the cliff, we have the classic Sam Burlap Mask. If you want to be silently evil and misunderstood, try the Trick 'r Treat Clown Half Mask. For those who want to be evil, try the Trick 'r Treat Skeleton Half Mask.
This Trick 'r Treat Sam animatronic is sure to give everyone a scream this Halloween season. With a moving torso and arm, you and your guests will love this decoration! With a special interchangeable head, you can pick which one Sam has on. Whether it be his pumpkin head or burlap sack, Sam is ready to SCARE!
If you're suddenly too afraid to open the door on Halloween night, this Trick 'r Treat Sam greeter is the perfect way to help you hide. Since Sam holds a bowl for you to put candy in, you'll be able to leave your treats on your porch without having to answer the door. If you think about it, this may be the safest option given Sam is in town!
Want to decorate your house like it belongs in Warren Valley? This year we've got plenty of new ways to rep your fav horror movie. The Trick 'r Treat Lollipop String Lights are a fun way to keep the jack-o'-lantern lit, the Trick 'r Treat Gel Cling Stickers are sure to add to the fear factor, the Bloody Trick 'r Treat Wall Tapestry is hauntingly beautiful, and the Trick 'r Treat Rules of Halloween Sign will turn your living room into a party that even old Mr. Kreeg will approve of. You can put your Sam Funko Pop Figure Deluxe on your desk so he's always watch you.
Trick 'r Treat Accessories
Is Halloween one of those nights where you cozy up on the couch and watch scary movies while waiting for trick-or-treaters to stop by? If so, this Trick 'r Treat Sam fleece blanket our other Trick 'r Treat Rules fleece blanket will be absolutely perfect for a horrific night in. Don't get too comfortable, though. For all you know, Sam may be your next trick-or-treater!
If you want a classic decoration to blow your guests away, this Trick 'r Treat Sam inflatable will scare away any ghoul or killer! Sam will be making sure that you're giving every single trick-or-treater candy. He has your back but you also have to follow his rules. Nobody will want to mess with you once this large Sam inflatable decoration gets involved!
Loving the options so far? You're in luck! This Trick 'r Treat Sam statue with LED lights is perfect for adding just the right amount of scare to any Halloween setup  and enhancing your collection of horror movie paraphernalia! You'll be sure to love how scary yet pleasant this version of Sam is. Be careful, though! He is still up to his usual tricks!
For the real horror-heads, this year we've got a ton of new accessories for those who may be secret werewolves looking to feast for the very first time. You must accessorize your life with the Trick 'r Treat Pin and Patch Set, show your support always with the Trick 'r Treat Tote Bag, sleep tight and don't let the monsters bite with the Trick 'r Treat Sam Head Pillow, and rep Warren Valley with the Trick 'r Treat Dad Hat. 
Sam is quite the trick-or-treater and it shows. If you're a horror movie buff, this Trick 'r Treat collection is perfect for you! Sam has four rules. 1. Wear a costume. 2. Pass out treats. 3. Never blow out a jack o'lantern. 4. And ALWAYS check your candy. Follow these rules on Halloween night, or you could be his next victim. You saw what happened to those who did not follow the rules! Don't let Sam do the same to you!
Don't forget to check out all of Spirit's animatronics, decorations, and accessories for even more Halloween fun!