Halloween is approaching quickly, and all of the most popular costumes are going to be really difficult to find before you know it! Don't be that parent who waits until the last minute—let your child dress up and trick-or-treat in their favorite costume this year. We've even made it easy for you and rounded up the best kids' Halloween costume ideas for this year. Whether you're on the hunt for the best boys' Halloween costumes or the best girls' Halloween costumes, we've got it covered!

They're already playing it every chance they can get—now let them dress up in their favorite skin and prepare for Battle Royale in their own neighborhood. Every kid is going to want to dress up in a Fortnite Halloween costume with their friends this year, so costumes are definitely going to go quick. From Skull Trooper to Crackshot, Dark Voyager, and even the Black Knight, there are tons of kids' Fortnite costumes to choose from. Sometimes it's hard to come by Halloween costumes for boys that they're super pumped about. Even after they're done collecting loot from each house that night, they'll love putting on their Fortnite costume again while playing the game with their friends! Our selection of girls' Halloween costumes also includes some awesome gaming characters, because video games aren't just for boys! Brite Bomber and Cuddle Team Leader would be adorable on your little girl! Stay comfy in some of our best kids' Halloween costumes. Plush Fortnite costumes will keep them comfy and cozy while trick-or-treating all night! Time to board the battle bus and get to your closest Spirit Halloween…QUICK!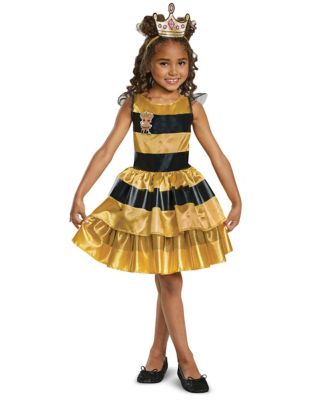 Remember one of the most popular toys last Christmas that every little girl absolutely HAD to have? Well, they're back this year in costume-form! Have your child join the Glitteratti Club and dress up in a classic Queen Bee LOL Surprise Doll costume or even a classic Diva LOL surprise doll costume. Don't forget to accessorize with adorable LOL Surprise press-on nails and finish the look with LOL Surprise lip gloss! Unlike the toy, you'll know exactly what you're getting with these cute girls' Halloween costumes, and collecting a ton of candy while trick-or-treating is definitely part of that!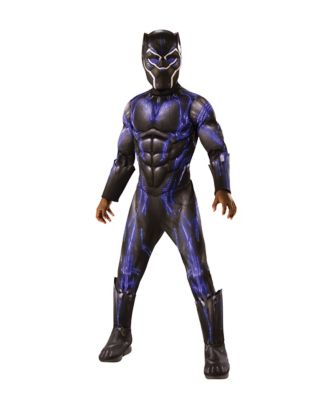 It was one of the best movies of the year, so obviously Black Panther costumes will be everywhere this Halloween. Let them show off their Wakandan pride in one of our Black Panther kids' costumes. The Black Panther boys' costumes are full of detail, including built-in muscles that they dream of having! Girls' Halloween costumes based on the movie are just as stunning, so she'll love wearing a Shuri costume. Boy or girl, there are a bunch of costumes and accessories for any Black Panther lover!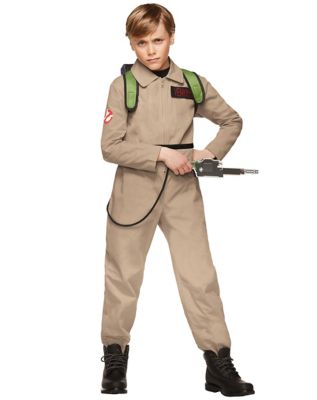 See something strange in your neighborhood? Have your kids dress up as their favorite Ghostbusters characters and keep the town safe on Halloween night. In one of our kids' Ghostbusters costumes, they'll be able to handle any kind of spirit that comes their way. The kids' Stay Puft Marshmallow Man is perfect for that kid who seems quiet and cute…until they get a trick instead of a treat. Finish this perfect kids' Halloween costume by carrying around the Ghostbusters Ghost Trap and the oh so handy P.K.E. Meter, and they'll be ready to bust away every ghost coming their way! Whether you're looking for boys' Halloween costumes or girls' Halloween costumes, the Ghostbusters one piece jumpsuit looks great on anyone!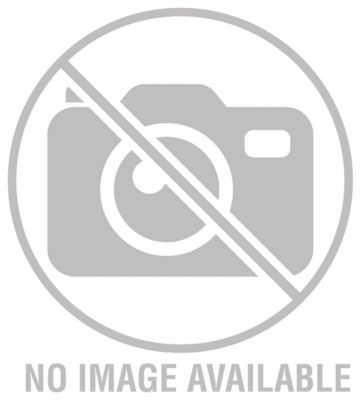 Nothing's more exciting than dressing up as your favorite TV show character. If your child impatiently waits for Miraculous: Tales of Ladybug & Cat Noir to air every day, then wearing a kids' Ladybug costume or even Cat Noir costume will have them ready for any kind of action. These girls' Halloween costumes are super adorable and will be so much fun for her to wear while trick-or-treating. After all, her mission on Halloween night is to get as much candy as she possibly can.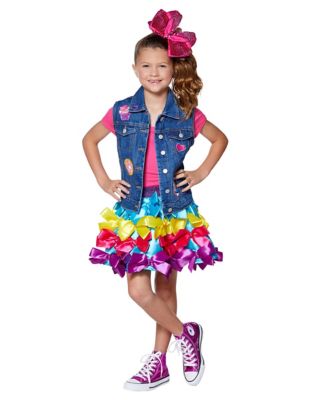 Ready to feel like a superstar? Your little girl will love dressing up like her favorite YouTube and Nickelodeon star in a kids' JoJo Siwa costume. Whether it's just a big, glittery bow or the entire outfit she wore in her Boomerang video, JoJo Siwa costumes are definitely going to be one of the most popular girls' costumes this Halloween. Put her hair in a high ponytail and add that giant bow. She'll be singing and dancing all the way to each and every door collecting candy from her fans.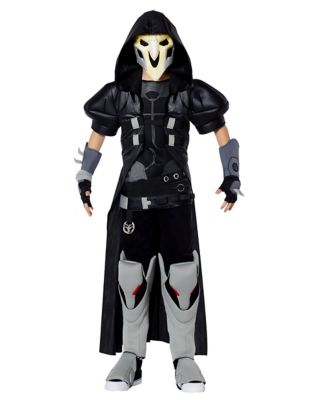 Bring their favorite video game to life. For some, Halloween's all about letting out their dark side, so why not become the most infamous villain of Overwatch? This kids' Overwatch costume will easily be recognized and make their friends envious. Death walks among you this Halloween, so make sure it's with an authentically-designed kids' costume.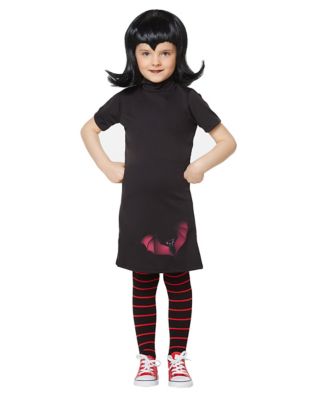 If they're getting tired of their own boring neighborhood, then bring them over to Hotel Transylvania! Our Hotel Transylvania kids' costumes include all of their favorite characters, like Mavis, Dracula, and even Frankenstein. Whether they're going to a costume party or just trick-or-treating around the block, these girls' Halloween costumes and boys' costumes will make them look like they came straight out of the movie!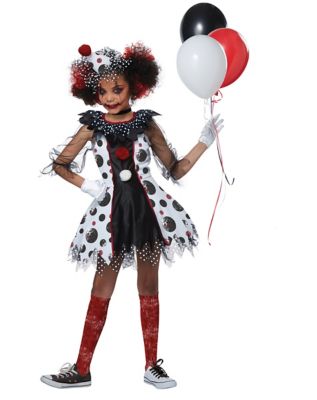 Nothing's better than a true classic. Our selection of kids' clown costumes will really show off their personality. From cute and funny to downright horrifying, no one can get the party started quite like a clown! We've got glow in the dark scary clown costumes for boys and colorful freakshow clown costumes for girls. But they can be as scary or as funny as they want! Classic kids' costumes have always been and will always be in style year over year, but don't wait until the day before the circus comes to town; all of the funniest and scariest clown costumes and accessories will be gone!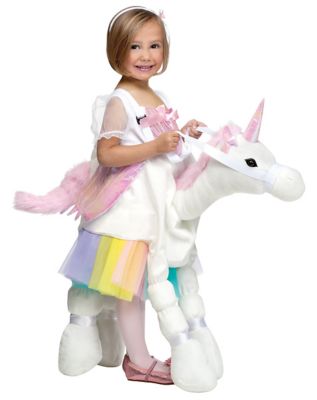 Halloween is about to get a little more magical with these Halloween costumes for girls. Strap on some wings, put on a horn, and start frolicking around the neigh-borhood in search of the best candy. These unicorn kids' costumes are full of color and wonder and will definitely put a smile on any girl's face. From kids' unicorn pajama costumes to beautifully designed costumes from our Signature Collection and even inflatable kids' costumes, we've got all of the best unicorn costumes for kids this year. Mystical creatures aside, kids' animal costumes for boys and girls are always classics and never go out of style. Dinosaurs, cats, and even elephants are just a few kid favorites!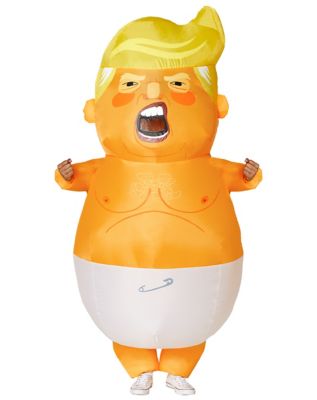 Time to expose their funny bones! Not every kid wants to look cute or scary on Halloween—sometimes they just want to give people something to laugh at. Nothing will get bigger laughs this year than wearing our kids' baby prez inflatable costume or our kids' inflatable ride on bull costume! If inflatable isn't the route they want to take, dressing as a grandma or wearing our kids' alien abduction costume are perfect and still hysterical options! Any of these are great costumes for girls or costumes for boys. Funny kids' costumes are perfect for the class clown, so don't wait and let their costume be anything less than hilarious.
What do you think the best kids' costumes of 2018 are going to be? Already have yours? We'd love to see it! Send a picture of your child wearing their Halloween costume this year to spiritblog@spirithalloween.com for a chance to be featured in a future post! Keep your eye out for more posts like Halloween costume ideas or teen boys, Halloween costume ideas or teen girls and so much more!