Halloween is quickly approaching, but you and your boo still need the perfect couples costume for the big night! With so many options, you may be at a loss for which couples costume is the perfect choice to put the rest to shame. Look no further, because the costume experts at Spirit have devised a list of our favorite couples Halloween costume ideas that are sure to be a hit this Halloween!
Classic Halloween Costumes
Get into gear with steampunk couple costumes or sail the seven seas, and walk the plank in our couples pirate costumes! The options are endless, and Spirit Halloween is here to offer you a wide variety of classic couples costumes that will leave a memorable mark on everyone this Halloween!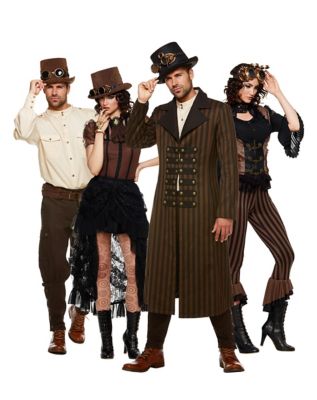 Grab yourself some vintage-inspired goggles and a top hat, and you'll both be ready for some retro-futuristic Steampunk flair. From jackets and tops covered in gears galore to ruffled lace and faux leather tops, roll out in western and Victorian style this Halloween by creating your own unique steampunk looks here.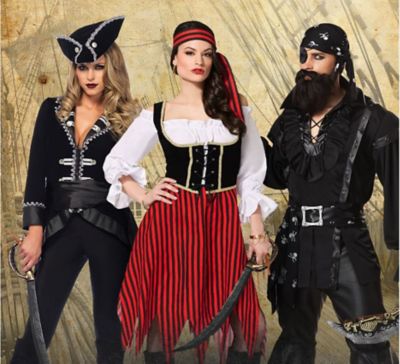 Shiver me timbers! Pirate costumes always perfectly coordinate with one another, making them a classic and one of the best couples costumes. Accessorize by throwing on an eyepatch, grabbing a sword, and you'll be ready to start throwing orders to walk the plank. Find your perfect pair or create your own pirate costume.

Scary, cute, funny, you name it–we've got the perfect clown costume for you and your significant other! Show up to the party looking like you both escaped the circus and took a few victims along the way with dark clown costumes and blood-stained weapons. Prefer to be more innocent? Wearing brighter colors and vibrant wigs will give off a much lighter vibe. Whether dark and scary or cute and funny, you can always find the perfect clown costume for couples at Spirit!
Your favorite characters are moving from the big screen to Halloween! From Beauty and the Beast and Stranger Things to The Wizard of Oz, we've got all your favorite television and movie personae. Step into the spotlight on Halloween night with these instantly recognizable costumes!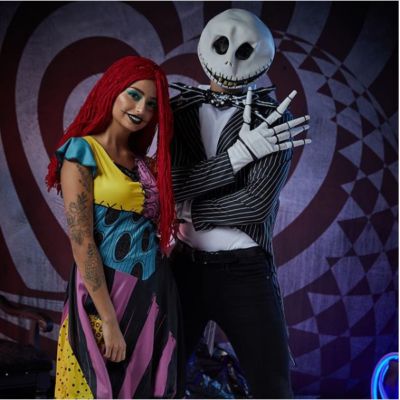 Straight from Halloween Town comes everyone's favorite creepily cute couple! In Disney's The Nightmare Before Christmas, the eccentric Jack Skellington is the Pumpkin King, the leader of Halloween Town, and he craves something more than scaring people. Throughout the film, he embarks on an adventure across the worlds of Halloween and Christmas, and saves the day with the help of the romantic ragdoll Sally. Have some frightening fun on Halloween night with this undead duo in The Nightmare Before Christmas costumes!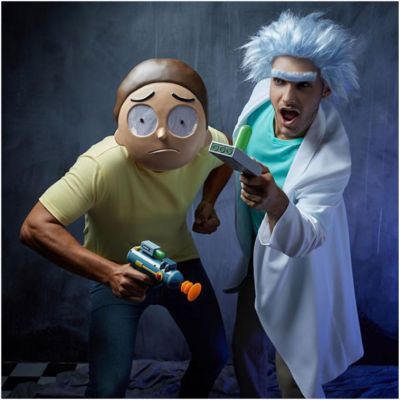 Aw geez, Rick… Fans of Rick and Morty were overjoyed when the show's creators announced that the series had been renewed for a whopping 70 additional episodes back in May, so keep the party going on Halloween with our Rick and Morty costumes! Dress up as the classic duo on Halloween night and get ready for some zany adventures… Don't forget your portal gun!
"It's just a bunch of hocus pocus…" The classic Disney film marked its 25th anniversary on July 16. What better way to celebrate than by dressing up in wicked Sanderson style on Halloween night in a Hocus Pocus costume? Winifred Sanderson and Billy Butcherson didn't exactly have the best relationship in Hocus Pocus, with the poisoning and all… but the pair still makes for a great couples costume! Get ready to conjure up some fun on Halloween night with this ancient duo.
"Honey… Where's my super suit?" Suit up and save the world in heroic style with the Incredibles! Fans have been patient, and now, after 14 years, Pixar has finally released the long-awaited sequel to the action-packed family classic! All of your favorite supers are back in Incredibles 2: super-strong Mr. Incredible, flexible Elastigirl, cool-as-ice Frozone, invisible Violet, super-fast Dash, and, of course, the unpredictable super-powered baby Jack-Jack! Take a break from the action on Halloween night and leave the youngsters with Kari the babysitter when you slip on these heroic costumes! Talk about a power couple.


Bring balance to the Force with these costumes from a galaxy far, far away! Rey and Kylo Ren had quite the journey from opposing sides of the conflict between the Resistance and the First Order in Star Wars: The Force Awakens, and their connection only grew stronger in The Last Jedi through their force-bond. Tread the line between the Light side and Dark side of the Force when you dress up in Star Wars costumes as this unlikely duo! Don't forget your light sabers!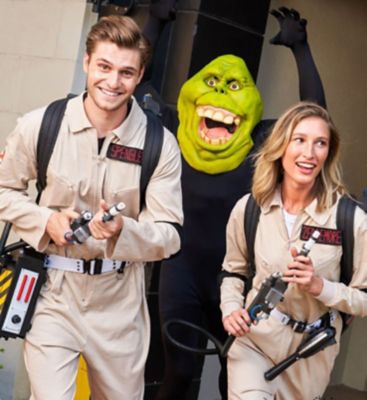 "Who ya gonna call?" Take on any spooky specter this Halloween night with our Ghostbusters collection! Whether you're on the hunt for some ghastly ghouls as a couple of Ghostbusters or going for a more peculiar pairing  like Slimer and the Stay Puft Marshmallow Man, we've got all the gear you need. Grab your Proton Pack, Ghost Trap, and P.K.E. Meter and get ready for a night of frightening fun with your boo!
Marvel Superheroes Costumes
In the past ten years, the Marvel superheroes have made the journey from the pages of the comics to the big screen. The Marvel Cinematic Universe currently boasts twenty movies, beginning with Iron Man in 2008 and still going strong with Avengers: Infinity War and Ant-Man and the Wasp in 2018. Suit up as your favorite heroes with our officially licensed collection of Marvel superhero costumes!
Are you worthy? Protect the nine realms as Thor and Valkyrie, two Asgardian heroes who showed their true power in the third installment in the Thor trilogy, Thor: Ragnarok! Throughout the film, Thor and Valkyrie became an unstoppable team, working with Hulk, Loki, and other Asgardians to defeat Thor's sinister sister, Hela. Team up and get ready for a Halloween of godly proportions when you suit up in these officially licensed costumes! Don't forget your hammer!
Making their first appearance in Guardians of the Galaxy and returning most recently in Avengers: Infinity War, Star-Lord and Gamora have fought together side-by-side across the universe. After everything they've been through together, it's safe to say they've gotten pretty close! Suit up as these heroic outlaws and grab your mixtape for an out-of-this-world night of fun. You'll be the cutest couple in the galaxy!
Suit up and shrink down as two of Marvel's smallest superheroes this Halloween! Returning in his hilarious sequel, Scott Lang once again dons the Ant-Man suit… except this time, he's not saving the day alone. Hope van Dyne, first introduced in Ant-Man, suits up as the Wasp for the first time and kicks some serious bad guy butt. You're sure to have a larger-than-life night of fun when you suit up as this pint-sized pair!
DC Comics Superheroes Costumes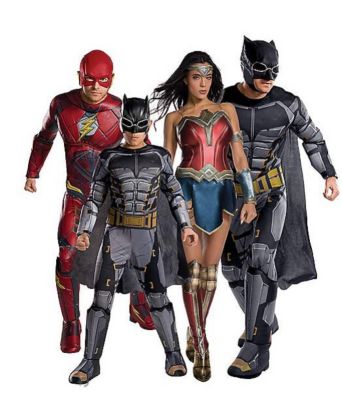 It's a bird! It's a plane! It's your perfect heroic couples costumes! Some of the most iconic super-duos have come from the pages of DC Comics, and with timeless pairings like Batman and Robin and classic couples like Superman and Lois Lane, DC Comics has no shortage of duos for your perfect couples costumes this year. No matter what dynamic DC duo you're going for, we've got all your favorite heroes, from the streets of Gotham City to the skies of Metropolis!
Two of DC Comics' most iconic superheroes made their way from the pages of the comics to the big screen in Batman v. Superman: Dawn of Justice. While the pair may have gotten off on the wrong foot, they were eventually able to put their differences aside and save the day.  Dress up as this unlikely duo on Halloween night for some super-powered, crime-fighting fun! Looking for a more classic look straight from the comics? We've got you covered with these classic Batman and Superman costumes, perfect for that Golden Age look!


"I can save today. You can save the world." Take on Halloween night in Amazonian style as this battle-ready couple! In her first solo movie, Amazonian hero Diana Prince enters the fray of WWI, suiting up to become the heroic Wonder Woman. Teaming up with American pilot Steve Trevor, the two attempt to put an end to the conflict once and for all by defeating Ares, the God of War. Suit up with these heroic costumes for a surefire, timeless look.


These two are crazy for each other! Have a laughably fun Halloween night when you dress as villainy's most iconic couple, the Joker and Harley Quinn! Whether you prefer their looks from Suicide Squad or from the comics, we've got everything you need to become Gotham's craziest couple. You're sure to drive all the heroes crazy on Halloween night when you slip on these villainous costumes!
Get into some hilarious Halloween hijinks with these silly, knee-slappin' ensembles! No matter what ludicrous look you go for, you're sure to be the laugh of the party with these couples costumes! No joke!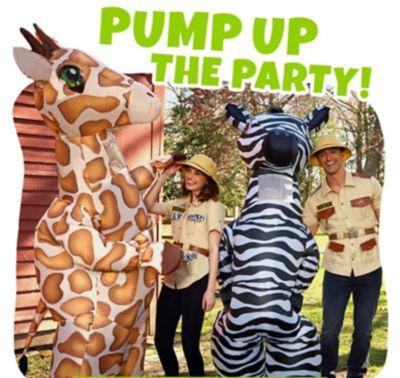 Show off your wild side with our array of costumes spanning the entire animal kingdom! Get dressed for work as two zany zookeepers, or throw an animal costume into the mix for an untamable night of fun. With so many animal costumes to choose from, ranging from monkeys and lions to pandas and cows, you're bound to find that perfect "straight-outta-the-enclosure" look. Plan your zoo-break and get ready to show everyone your inner party animal!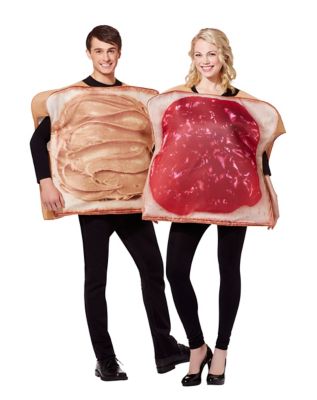 Is there a more iconic duo? Show everyone how well you and your partner go together with this delectable peanut butter and jelly costume! With peanut butter on one slice and jelly on the other, these costumes are pure-bread perfection. You're sure to toast any couples costume competition when you and your other half (literally) rock this delish look. With costumes this fresh, there's no chance your night will go stale!
Game on! Our wide selection of costumes has something for every gaming couple. From classic styles like Mario and Peach (or Mario and Luigi) from Super Mario Bros. to  Link and Zelda from The Legend of Zelda, you're sure to level-up the competition.  Looking for more recent looks like Steve and Alex from Minecraft and Master Chief and Cortana from Halo? We have what you need. With these top-notch gaming costumes, you're sure to hit the high score on Halloween! So what are you waiting for? Grab your Player 2 and press start!


The Heartless don't stand a chance against this heroic duo! Straight from the Destiny Islands come Sora and Kairi, two heroes from Kingdom Hearts! Throughout the series, lifelong friends Sora and Kairi fight against the Darkness, sometimes together and sometimes apart, but always for the good of Kingdom Hearts. Together, this duo is an unstoppable force… Just don't forget your Keyblade!


Take on your next Halloween party as two of the most popular heroes from Overwatch, Mercy and Reaper! One brings life and the other brings death, but together they make for an unstoppable team. Mercy's bright, angelic look perfectly contrasts Reaper's dark guise, making them the perfect pair for any couple of Overwatch fans. Team up as this couple on Halloween night and prepare for battle!


Drop into your next Halloween party with Fortnite flair! Whether you're knockin' heads as Cuddle Team Leader and Skull Trooper, kickin' prehistoric butt as Rex and Tricera Ops, or droppin' Boogie Bombs as Dark Voyager and Brite Bomber, our huge selection of officially licensed Fortnite costumes and apparel have everything you need for your next Battle Royale. Score your next Fortnite win and your next couples costume competition victory with one of these battle-ready pairings!
And there you have it! While these are our favorite couples costumes, you can check out the rest of our
group and couples costumes
on our website for even more classic looks. Let us know how we did or send us a picture of you and your boo to
spiritblog@spirithalloween.com
!