Whether you're planning ahead and want to keep it simple or looking for a last-minute Halloween costume, Spirit has plenty of options that are both budget-friendly and easy to put together. They still let you show off your festive side, but you'll only need a few minutes to look picture perfect. You can add a DIY spin to your costume by pairing your own wardrobe with accessories and fun Halloween tees, suits, dresses and more. Plus, you can wear these looks at other times of the year too, giving you more bang for your buck. These affordable and easy Halloween costume ideas are ones that the whole family can enjoy. You can use all the time you've saved for more Halloween partying or trick or treating.
Where can I find simple Halloween costumes?
If you're the type of person who wants a simple Halloween costume that you can put on in just a few minutes, Spirit Halloween has plenty of options for you. We have numerous styles that are easy to plan for and will still let you show off your Halloween flair.  Our simple Halloween costumes for adults and kids make planning a breeze and are budget friendly. They're also portable, so they can be packed away while you're at work or school, and then used to change up your holiday style.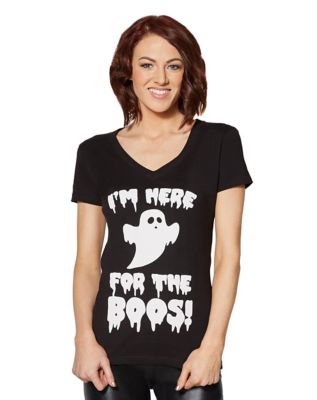 Halloween t-shirts are among the easiest ways to dress up for the holiday season. Plus who doesn't love a fun tee?  Let everyone know you're here for the boos, or make them laugh with a pumpkin t-shirt stating: "Let's Get Smashed." You can get spooky with a Reaper skeleton tee, or celebrate the Sanderson sisters from your favorite film in our officially licensed Hocus Pocus t-shirts. We have a wide variety of other pop culture t-shirts that make it simple to represent your favorite  TV shows, video games, movies and characters. Pair them with your favorite jeans, pants, shorts or skirt and you'll be ready to hit up the haunted house or other Halloween festivities. Bonus: You can also rock these tees year round!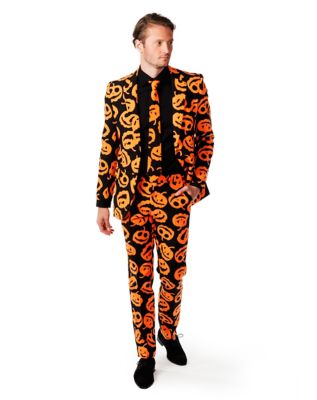 Look dashing in one of our fun party suits that will truly make you the life of the party! With a matching jacket and pants, these bold and stylish suits are easy to wear with any undershirt and will make it seem like you've spent hours planning your look. Go full Halloween in our Jack-O-Lantern suit or celebrate with the undead in a Zombiac Suit. Our Cashanova suit is perfect for any high roller and is sure to get you tons of compliments. You can rock your Star Wars Strong Force suit, which features popular characters like Luke Skywalker and Yoda. Hang it in your closet and wear again on May 4th!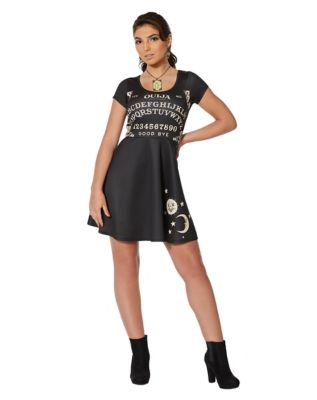 Halloween is the perfect time to wear a cute dress that shows off your flair for fashion while still celebrating the theme of the holiday. You can even wear them to other parties or as an everyday outfit throughout the year! Look totally charming on Halloween or bring game night to life in a Ouija Board dress that is sure to ignite the paranormal. Display your Pokémon love in a Pokeball dress, or show off your favorite creepy crawlers in a Cemetery Skater dress or haunted high neck dress. Our iridescent white alien dress can be jazzed up for Halloween night by adding a wig and a headband, or you can wear it on its own for a stylish look that's sure to draw attention. The army green war time doll costume is a stylish retro dress with goldtone accents that comes complete with a hat and a belt. Voila! You're a throwback babe who looks totally fetching.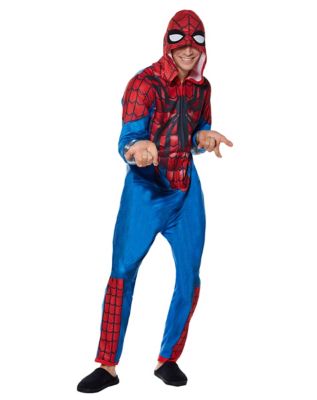 Pajama costumes are the perfect way to go from day to night or vice versa. They do double duty and let you look your most adorable. Cozy up in a Scooby-Doo or Spider-Man pajama costume or choose from many other officially licensed pop culture costumes to represent your favorite characters. These soft and warm one-piece outfits will make you feel like a kid and are sure to get you plenty of laughs from your friends.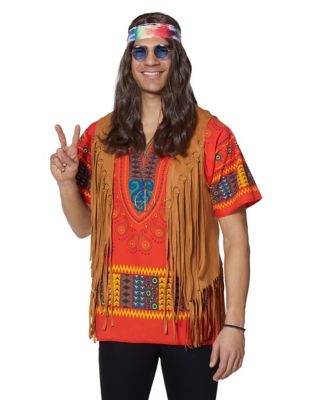 Another easy way to transform yourself into a Halloween superstar is with a costume kit. Kits make it easy to combine your regular clothes with add-ons to create a fantastic costume that will make you fit in with all the other revelers. Add a bat cape and headband to your favorite black dress and you'll be ready to flap around the town! Gamers can transform themselves easily with our officially licensed Fortnite Skull Trooper Kit, which comes with a printed t-shirt, a hooded mask and a bandana. If you want a retro look, put on your favorite tie-dye t-shirt and add our Feelin' Groovy™ Hippie Costume Kit, which includes a headband, glasses and a metal pendant. If you want a very simple costume that's sure to make everyone do double takes, just add a fake pregnant belly to any of your favorite outfits! Our costume kits are one of the quickest and easiest ways to get dressed on Halloween night! Take advantage of the convenience.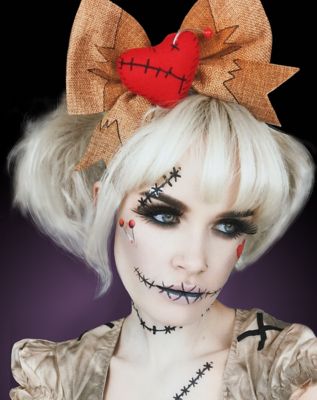 Spook up any look with creative Halloween makeup. You don't need to spend hours in front of the mirror to perfect your image. With just a little practice, you'll be ready to slip out of your daytime persona and into your Halloween look in just minutes.
Our site features numerous do it yourself Halloween makeup tutorial videos so you can get pointers on how to create your desired look. Trust us—everyone will be utterly entranced by your carefully applied festive cosmetics, whether you're dolled up as a broken doll, trotting around as a magical unicorn, showing off your bad-to-the-bone style as a skeleton or spooking for friends as a ghostly ghoul.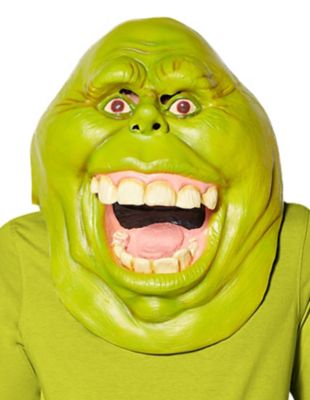 Another easy way to draw attention to yourself is by putting on a Halloween mask. Whether you pair it with a t-shirt, match it with other props or wear it on its own, a Halloween mask can invoke fear or laughter in everyone you come across. You can store your mask in your bag, and put it on when you get to your Halloween gathering. Imagine someone wearing a business suit below the neck and a Marvel Venom mask on top. Sounds pretty terrifying! Some other pop culture-inspired masks include the bold green of Slimer from Ghostbusters, a Power Armor Helmet from Fallout, an undead zombie and Oogie Boogie from The Nightmare Before Christmas. No matter what kind of mask you choose, your face won't be recognizable, making this one of the easiest Halloween looks ever
We want to see how you put together your simple Halloween costume with our Halloween accessories! Send your pictures to spiritblog@spirithalloween.com for a chance to be featured in a future post.