You wake up, scope out your pile of gifts, and dig in. You share warm words of gratitude with your loved ones as they open their presents, and it's all over in the blink of an eye. Does this sound familiar?
The holiday season is about much more than exchanging gifts. It's an opportunity to slow down and enjoy the company of your favorite people. If you feel like your holidays are usually a blur of crumpled up wrapping paper and tangled Christmas lights, then it's time to consider a new tradition.
Gingerbread house parties are perfect for entertaining people of all ages. Whether you're 9 or 99, colorful candy and fluffy frosting are simply magical. Here are a few tips for hosting a fun and festive gingerbread house party!
Order gingerbread house kits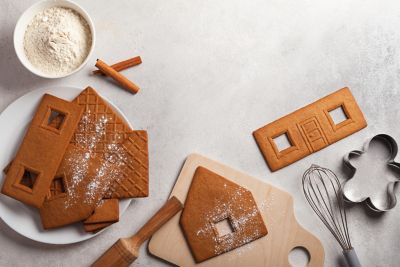 Save time and minimize the mess with gingerbread house kits. Because gingerbread house kits come with pre-made pieces, your guests will be able to skip right to the fun part: decorating! If your guest list includes young children, consider taking the extra step to assemble the gingerbread walls into bare houses.
If you prefer to bake your gingerbread houses from scratch, we recommend allowing them to cool overnight before decorating. If you attempt to decorate a gingerbread house that's too warm, the icing and candy will slide off into a messy (but delicious) puddle.
Prepare your gingerbread house decorating space
Decorating a gingerbread house can get messy! Cover your decorating space with newspaper or a washable tablecloth before you begin. Start building your gingerbread house on a tray or a piece of cardboard. This will enable you to move your creation when you're ready to set it aside to dry.
Next, set a festive tone with your favorite holiday tunes. Listening to music about snowy days, warm nights by the fireside, and flying reindeer will help to inspire creativity!
Prepare your gingerbread house ingredients
Gather your ingredients! Here's what you'll need:
Royal Icing:
4 cups of sifted powdered (confectioners') sugar
3 tablespoons of meringue powder
6-8 tablespoons of warm water
Food coloring (optional)
Once you've created your Royal Icing mixture, spoon the icing into small plastic bags. Use scissors to cut a small hole in the corner of each bag. Squeeze the bags gently to dispense icing.
Candy:
Gumdrops
Round peppermint candies
Candy canes
Colorful sprinkles
Mini marshmallows
Chocolate pretzels
Frosted gingerbread men
Your favorite sweets!
Separate candy into small bowls or measuring cups that can easily be passed from person to person.
Decorate your gingerbread house
It's time to let your creativity flow! Think of Royal Icing as your glue. Use it to join walls, create designs, and adhere candy to surfaces. Royal Icing takes about two hours to dry at room temperature, so be careful not to disturb your designs as they set. Not sure where to start? Here are some of our favorite gingerbread house ideas!
Traditional gingerbread house: Outline the windows, door, and roof of your gingerbread house with icing. Add red and green gumdrops to the roof, using small dollops of icing to secure them. Add a round peppermint candy above the front door, just above the roof's peak.
Funny gingerbread house: Go wild with this one! Cover every inch of your gingerbread house with candy in no particular order. Drizzle icing onto the roof and scatter sprinkles on top of it. When you're done, it should look like a tiny candy tornado has touched down on your gingerbread house.
Sports gingerbread house: Use a few drops of food coloring to create a Royal Icing mixture in your team's color or colors. Use the icing to fill in the outer walls of your gingerbread house. Tip: outline any area before filling or "flooding" it with icing. Choose candies that match or complement your team's color or colors, and stick them to the roof. Do your best to dress a gingerbread man in your team's jersey (icing works best), and stand him up in front of your house with a generous dollop of Royal Icing.
Vote for the best gingerbread house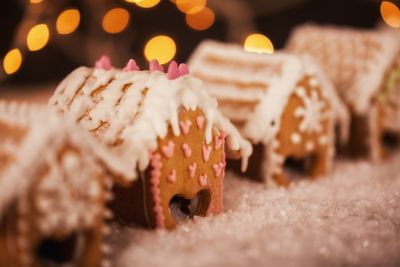 Serve hot cocoa and snacks to your guests while you wait for the gingerbread houses to dry. Once they're ready, arrange them in a row. Use scrap paper to display a number in front of each gingerbread house.
Let your guests decide which gingerbread house is the prettiest, the most creative, the funniest, and so on! It's your contest to host, so you get to choose the voting categories.
Tally up the votes. Announce the winner of each category. The winners get bragging rights and a tasty treat to take home! As for the losers, hopefully they still had fun and ate plenty of candy in the process. Better luck next year!