The last time you heard from us, we were announcing the launch of our official Fortnite costumes, weapons, decorations and so much more.  Well, get ready to bust out your best dance moves because we just released our line of 2019 Fortnite loot that will blow your mind! That's right, gamers! We're bringing you an all-new set of designs that will have you ready for any battle that comes your way.
We're pumped to drop this all-new loot, and believe us, you don't want to miss out on the official costumes and décor we're about to roll out. So get your squad ready because we're going to release a new collection of 2019 Fortnite costumes for boys, girls, and adults, plus tell you everything you need to know about them right here on our blog.
Legendary Outfits and Accessories: Legendary cosmetics and loot are the rarest in the game and have the most drastic aesthetic changes, which will cost you extra v-bucks. Any Legendary item will be represented in-game with an orange glow or orange background in the Item Shop.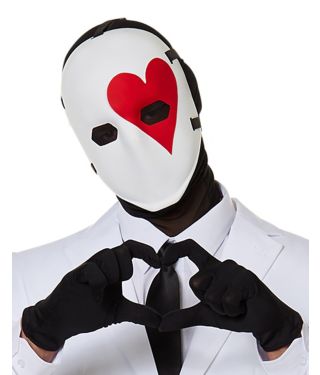 Create the perfect Fortnite group costume with four High Stakes masks. Including Heart, Spade, Diamond and Club, you and your friends can create an authentic costume that will prepare you for the perfect candy heist this Halloween.
Rex Costumes (Comes in

Boys'

& Adult Costumes)
Make the rest of the Halloween costumes go extinct when you show up to your next party in this Rex costume! Coming from the Dino Guard Set, you'll definitely want to take a bite out of this costume.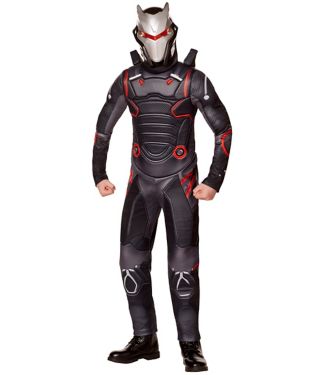 This carbon-fiber designed jumpsuit will have you looking like your favorite Fortnite bad guy in no time at all. Omega was introduced as a villain in Season 4 and now you can bring this character to life! "There can be only one…"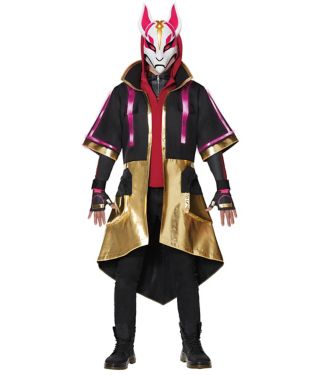 In order to complete Drift's fifth stage, you'll need to suit up in an official Drift jacket! Complete with signature goldtone accents and stand collar, you'll look like you just stepped off the screen in your Drift Fortnite Costume.
Drift Costume (Comes in

Boys'

& Adult)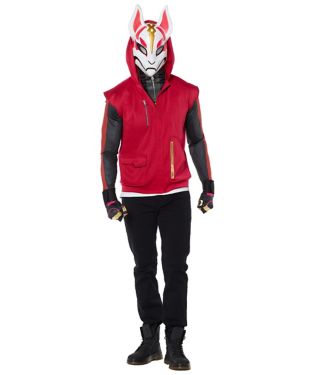 The perfect start to any Drift cosplay, the Drift costume comes in a boys' and adult version and features everything you need to travel the dimensions including gloves and a mask. The boys' style comes with a jacket and attached vest to make you look like stage 5 of Drift, while the adult version, which includes a vest with an attached shirt goes up to stage 3 and can be upgraded by getting the super sweet Drift Jacket (sold separately).
Drift Mask (Comes in

Youth

&

Adult

)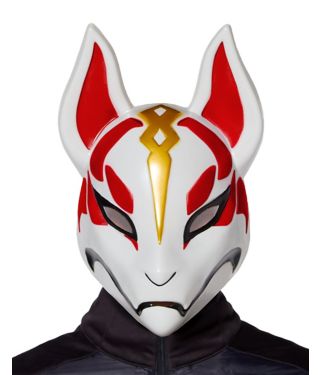 Enter Drift's third stage and navigate rifts like a pro when you slip into this officially licensed Drift mask! This detailed mask will not only have you ready for any battle royale, but it'll also add a little extra fandom to your Fortnite collection!
Epic Outfits and Accessories: Epic loot is the second rarest loot you can find. Just like Legendary items, Epic outfits and accessories have increased cosmetics and cost more than traditional Rare or Uncommon loot. They're also represented by the color purple in the game.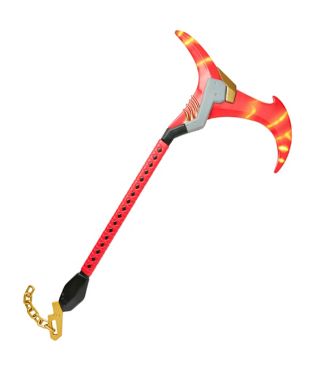 Need to pierce through the dimensional plane? Use this authentically designed Rift Edge Pickaxe! This harvesting tool is pink and features authentic ridges for ultimate performance.
Zoey Costume (Comes in

Girls'

&

Adult

Costumes)
Activate your sweet tooth with a colorful costume that will have everyone craving some sugar!  With realistic intricate details, you'll be able to create the perfect rendition of your favorite outfit.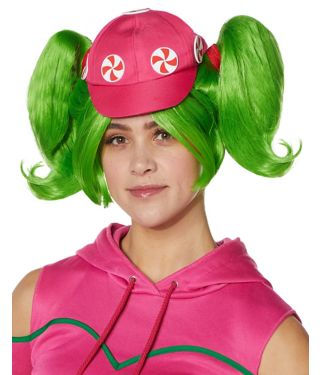 Craving some candy-coated chaos? This official Zoey wig will give you the green pigtails you want and the candy-covered nightcap you need to portray your favorite outfit from Season 4!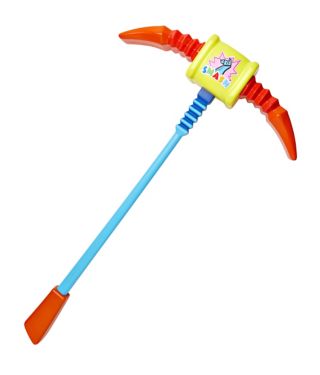 Squeak! Squeak! Squeak! Relive your youth when you use the Pick Squeak Pickaxe. This family-friendly harvesting tool is perfect for your Fortnite collection.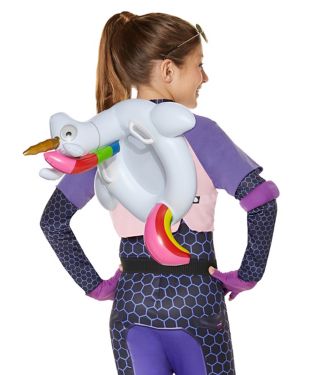 This back bling is straight up magical and is brought to you by the Rescue Patrol set. The inflatable unicorn back bling will have you floating through all of your days!
Rabbit Raider Costume (Comes in

Boys'

&

Adult

Costumes)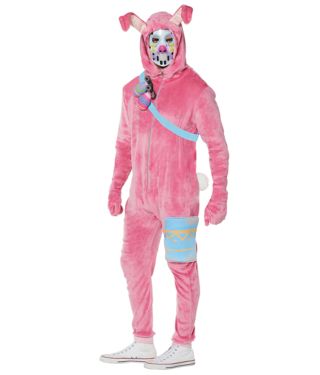 You'll look cute and cuddly, but no one will want any eggs from your basket once they cross your path! With this comfy costume, you'll be able to instantly embody your favorite Fortnite outfit.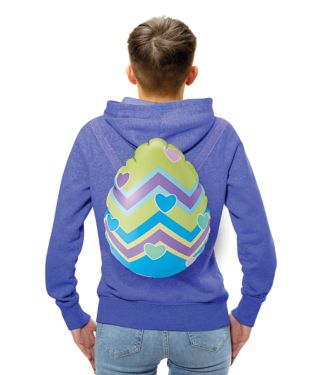 Get equipped and add to your Rabbit Raider outfit with this Hard Boiled Back Bling. Dip-dyed with pastel coloring and a heart-covered design, this back bling will look egg-cellent with any outfit.
Rabbit Raider Slippers (Comes in

Youth

&

Adult

Sizes)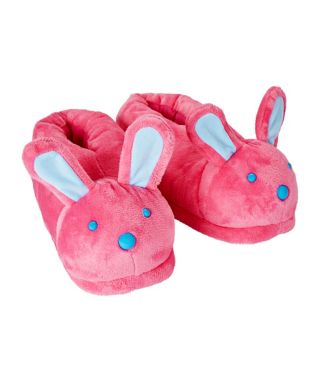 Get extra cozy with your favorite Fortnite outfit! Use these Rabbit Raider slippers to keep warm while you're playing for hours on end.
Rabbit Raider may look like a cuddly pink rabbit, but this white hockey mask adds an unexpectedly spooky twist! Want a Fortnite costume that'll give everyone around you an eerie feeling? This Rabbit Raider mask will do the trick! It's so cute, it's scary!
Merry Marauder Costume (Comes in

Boys'

& Adult Costumes)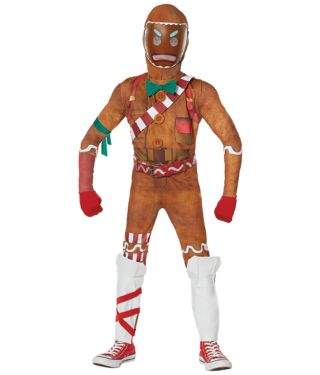 You'll be yelling "CATCH ME IF YOU CAN!" when you slip into a Merry Marauder costume this Halloween. This Christmas-themed outfit comes complete with a bow tie, a candy cane strap across the chest and so much more.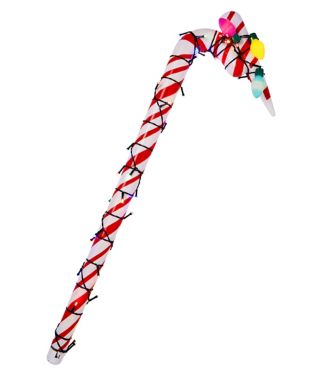 Get festive! Turn your normal crowbar into a Christmas light-covered candy cane. We know how delicious this pickaxe looks, but please don't lick it in hopes of a minty treat!
TomatoHead Costume (Comes in

Boys'

&

Adult

Costumes)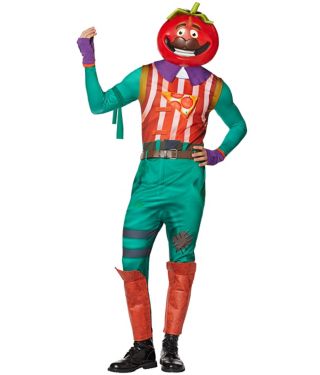 Get extra saucy on Halloween night when you bring your favorite Fortnite outfit to life! You'll have the spirit of Tomato Temple with you wherever you go, but be sure to be on the lookout for any Beef Bosses trying to sneak up and start a food fight!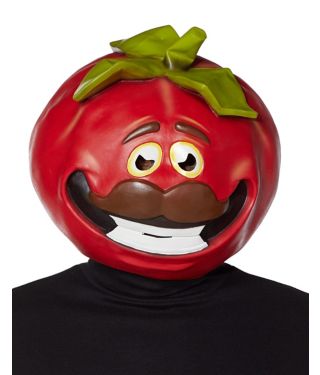 Join the food fight and become a part of the Pizza Pit set when you top off your Halloween look (literally) with this TomatoHead mask. Move over, Uncle Pete! There's a new sauce boss in town.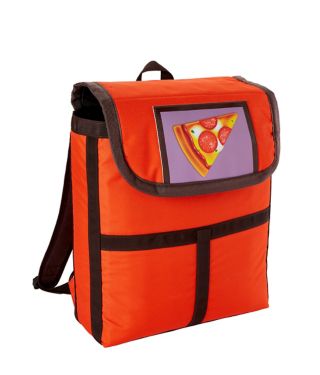 Did somebody say pizza? Just like in the game, this back bling's purpose is to up your style, and we think it does a great job keeping you hot and ready for the competition.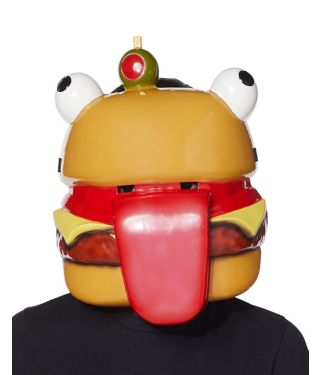 Serve up a well-done victory while you represent Durrr Burger in this replica-quality Youth Beef Boss half mask. You'll look so deliciously good, you may want to remind your onlookers that you're not edible!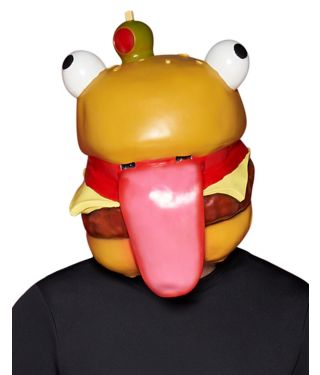 YUM! Will you join the Durrr Burger army in the annual food fight? You'll instantly turn yourself into the Durrr Burger mascot with this latex Beef Boss mask! With full coverage, everyone will wonder who that mysterious, well-seasoned person is when you arrive at the Halloween party.
DJ Yonder Costume (Comes in

Boys'

&

Adult

Costumes)
Make the whole world dance! DJ Yonder knows exactly what music to play and when you dress up in your favorite Fortnite outfit, you'll be in charge of the beats.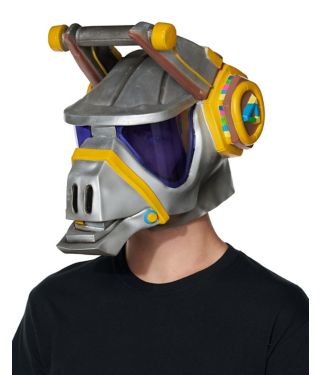 Straight from the Twin Turntables set, we present to you, this official DJ Yonder mask! Get ready to spin some records and drop some sick beats on Halloween night!
Giddy Up Inflatable Costume (Comes in

Boys'

& Adult Costumes)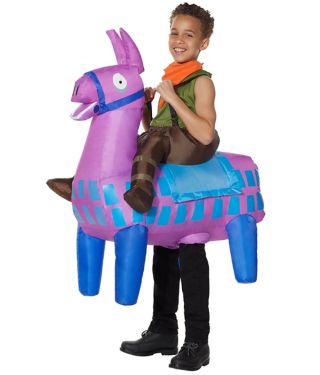 Do you know what's better than opening a Loot Llama? Finding a wild llama to take on a ride! This inflatable costume will have you riding off to Paradise Palms in no time, PLUS you'll have a blast exercising those creative muscles!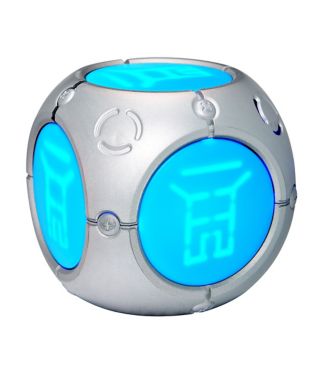 This Port-A-Fort will give you all the coverage you need on Halloween night, or any other time of the year! This rare utility item features flashing lights and explosive noises just like the on-screen item!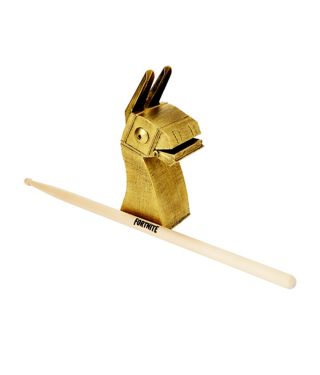 Make sure everyone is on beat when you whip out the Llama Bell to play a tune. This authentic bell looks just like it does in the game and will have you doing your favorite emote in no time! CLANG! CLANG! CLANG! CLANG!
Rare Outfits and Accessories: Rare outfits and accessories take it down a notch when it comes to price and amount of cosmetic changes in the game. Always represented as blue, Rare loot is typically still a good find for a good cost.
Skull Ranger Costume (Comes in

Girls'

&

Adult

Costumes)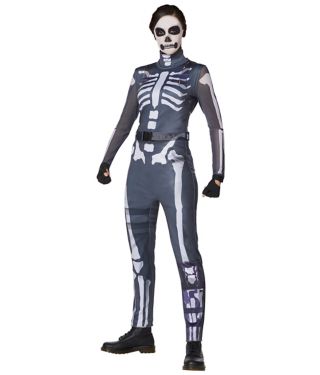 Can you say girl power? Our Skull Ranger costumes will have you embodying this rare female Fortnite outfit in no time at all. Your Skull Squad Set won't be complete without this outfit.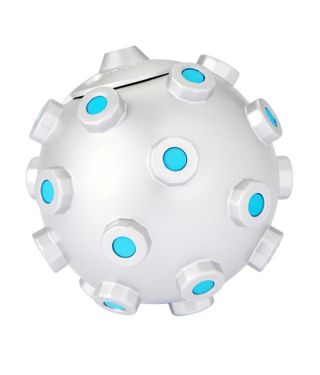 Tick…Tick…Tick…BOOM! Designed to look just like your favorite on-screen utility item, this Impulse Grenade makes a perfect accessory for Halloween and will also add an authentic touch.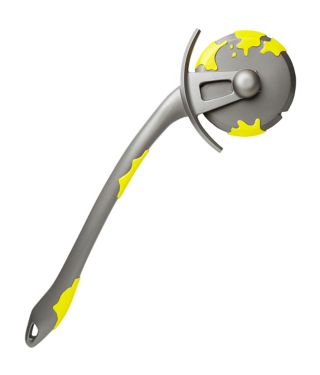 We've got your rare harvesting tool here collected from the ruins of the ancient Tomato Temple! This Axeroni Pickaxe will literally bring you victory by the slice. Your Pizza Pit set won't be complete without it!
Uncommon Outfits and Accessories: As you might've guessed, Uncommon loot is not as sweet as Rare, but it's slightly better than Common. These items are a bit easier on the old v-buck wallet and are usually much easier to obtain.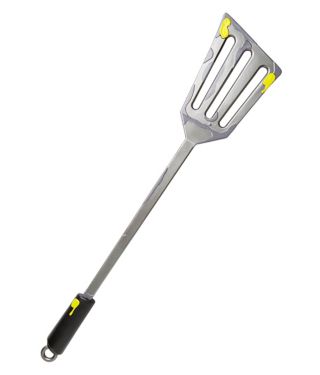 Turn up the heat and complete your Durrr Burger set with the official Patty Whacker Pickaxe. Ever wanted to be a real-life Grill Sergeant? Well, now you can pick up the Patty Whacker in real life and fulfill your Fortnite fantasy.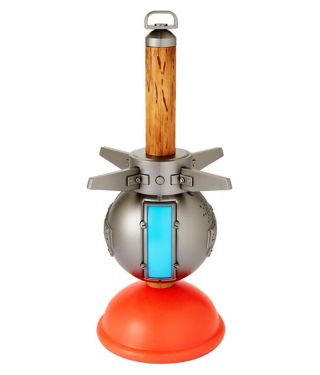 No need to check any chests, supply llamas, supply drops or vending machines, we have the Clinger Grenade you need right here! With flashing blue lights and explosive noises, this grenade is essential for every Fortnite fan.
FORTNITE DECORATIONS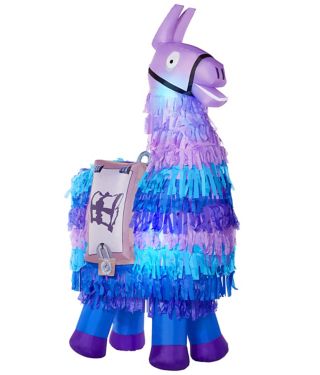 Add this lucky find to your outdoor décor before it disappears for good! Everyone will know that you're a Fortnite super-fan and you'll stand out among the rest. Trust us—this 8-foot Llama inflatable will blow all of your competition away!
By adding this Durrr Burger inflatable to your outdoor décor, you'll make your home look just like your favorite fictional fast food restaurant! Not only will you turn your house into a Fortnite shrine, but you'll also leave Fortnite fans in awe of your Halloween greatness!
Now that you have an idea of all the cool loot we're bringing your way this Halloween, it's time for you to pick your favorites and get to planning! Shop our Fortnite collection now, and prepare yourself for the next Battle Royale!